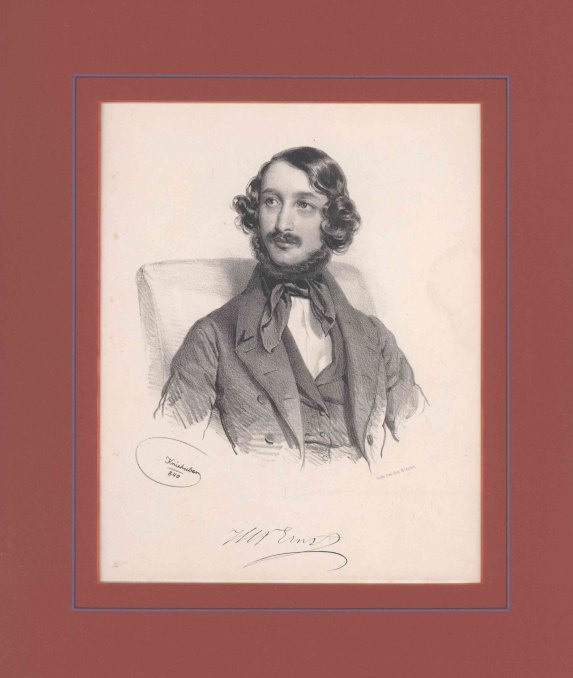 Click Image to Zoom
Enlarge Image
Ernst, Heinrich (1814-1865)
Matted Lithograph Portrait.
Austria, c. 1840. Total size in mat: 16" h x 14" w. In very good condition. Portrait trimmed and laid down on thin but stiff cardboard with Haslinger imprint at bottom (covered by mat). Faint spotting and a mild stain at sides (not affecting image).
This fine lifetime portrait engraved by Josef Kriehuber after a sketch by him is perhaps the most well-known image of the Moravian violinist and composer Heinrich Ernst. This copy, printed by the Austrian publisher Johannes Höfelich, includes a facsimile of Ernst's signature at the bottom and is presented in a bold red mat with blue border. Kriehuber (1800 –1876) was an Austrian lithographer and painter who is well known for his excellent engraved portraits of nobility, government officials and musicians, including lifetime portraits of Beethoven, Liszt, Schumann and Schubert.
Heinrich Ernst was one of the foremost violinists of first half of the nineteenth century, second only perhaps to the great Paganini. His contemporaries thought highly of his skill: Paganini allowed Ernst to perform some of his unpublished works, Mendelssohn agreed to accompany him on several occasions, Berlioz conducted his performance of Harold en Italie no fewer than six times in as many cities, and Joachim declared that Ernst was the finest violinist he had ever heard.
GPH-15501
$450