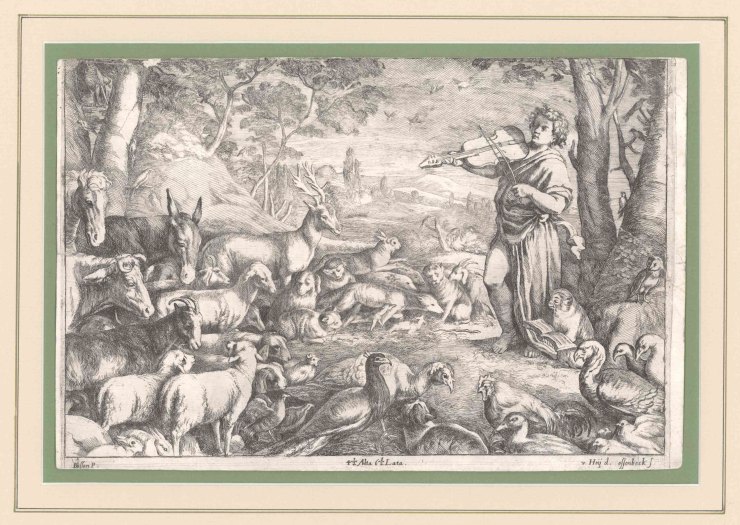 Click Image to Zoom
Enlarge Image
ORPHEUS AND ANIMALS
Hoy, Nikolaus van (1631-1679)
First state, c. 1660. Total size in mat: 14.75" h x 19" w (37.5 cm x 48 cm). Total size of print: 8" h x 12.5" (20.5 cm x 31.5 cm). In very good condition. Professional repairs to small tears at left and right margins. Trimmed to image with plate edge visible at left and right margins. Very attractively matted in cream and green.
A fine etching by Nicolaus van Hoy and printed by Jan van Ossenbeeck after an original painting by Leandro Bassano. The charming image shows Orpheus, the legendary musician, poet, and prophet in Ancient Greek religion, playing the violin before a host of animals, including a monkey holding music, all sorts of different fowl, a deer with beautiful tall antlers, cats, dogs, sheep, and horses. A rolling landscape can be seen in the background, and in the tree behind Orpheus, there sit a little bird and owl.
We believe this etching is a first state, printed before the image's inclusion in Teniers' collection of 246 plates entitled Theatrum Pictorium.
GPH-15414
$500