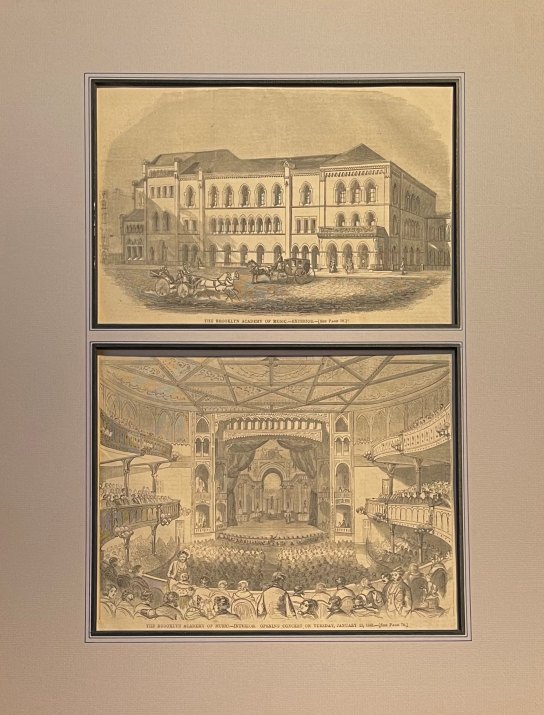 Click Image to Zoom
Enlarge Image
BROOKLYN ACADEMY OF MUSIC
Harper's Weekly, February 2, 1861. Total size in mat: 20" h x 14.5" w (51 cm x 36.5). Total size of print: 16" h x 10.5" w (40.5 cm x 26.5). In excellent condition. (Just a little wear to margins, all covered by mat).
A charming page from Harper's Weekly showing the exterior and interior of the Brooklyn Academy of Music at its opening on January 15, 1861. On the top, the façade of the hall is shown at a distance; outside its entrance are passersby, a moving open carriage, and a stopped closed carriage. On the bottom, the audience and orchestra ready for the inaugural performance, the conductor with his arms in the air and the spectators chatting and excitedly holding binoculars to their faces.
The management of the Brooklyn Academy of Music asserted in an address at the first concert that the hall would be devoted to music exclusively, and that no dramatic performance would ever take place on its stage. The program that night included the overtures to Der Freischütz and Guillaume Tell along with a number of operatic excerpts. The theater burned down in 1903.
GPH-15398
$135