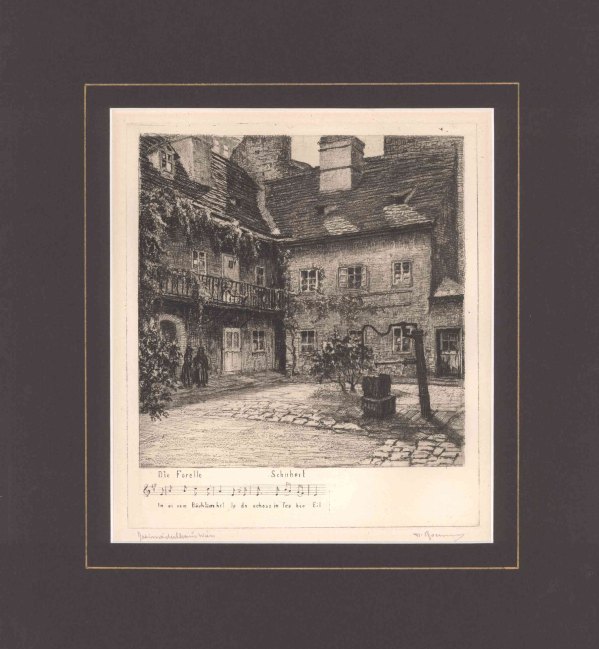 Click Image to Zoom
Enlarge Image
SCHUBERT - DREIMÄDERLHAUS
Early 20th century. Total size in mat: 14.5" h x 13.25" w (37 cm x 33.6 cm). Total size of print: 12.5" h x 12" w (32 cm x 30 cm). In excellent condition with generous margins.
A copperplate engraving depicting the titular house and courtyard of
Das Dreimäderlhaus
(
The House of the Three Girls
), the 1916 pastiche operetta by Heinrich Berté, Alfred Maria Willner, and Heinz Reichert using music by Franz Schubert. Beneath the image is a short musical quotation from Schubert's
Forellenquintett
with lyrics.
Das Dreimäderlhaus offers a fictionalized account of Schubert's romantic life, adapted from Bartsch's 1912 novel Schwammerl. The opera premiered in Vienna in 1916 and enjoyed 650 performances; it was equally popular in Germany and in many successful revivals and translations, including Broadway and West End adaptations entitled Blossom Time and Lilac Time, respectively.
The keen observer may note that this image does not resemble the Viennese historical landmark known as Drei-Maderl-Haus, which sits on the Schreyvogelgasse near the Universität Wien and which has long been associated with Schubert (even though he never lived or worked in it). We believe this print takes after the cover art of the first edition of the operetta's vocal score (1916), which itself may represent the house as it looked on stage in the first production.
GPH-15397
$125