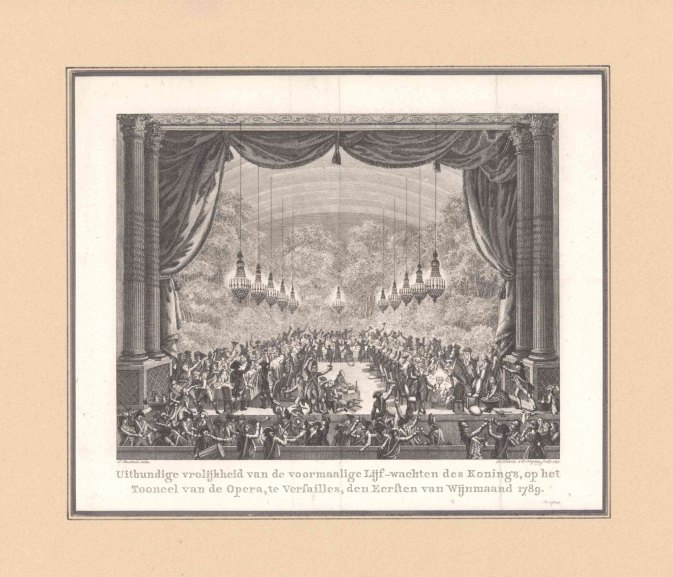 Click Image to Zoom
Enlarge Image
VERSAILLES OPERA
Amsterdam, 1797. Total size in mat: 15" h x 16.25" w (38 cm x 41 cm). Total size of print: 9" h x 11.75" w (23 cm x 29.5). Likely first state. Clean and in very good condition despite three vertical creases. Trimmed to the plate edge at top and bottom; trimmed beyond the plate edge at left and right.
An etching by Renier Vinkeles and Daniël Vrijdag after an original image by Jan Bulthuis, published in 1797 and included in their eighty-one-plate collection on the history of France, entitled Tafereelen van de Staatsomwenteling in Frankrijk. The Dutch caption translates: Excessive joyousness of the bodyguards of the King on the stage of the opera in Versailles, the first of the wine month, 1789.
The image represents an interesting piece of French Revolution history. On October 1, 1789, Louis XVI's guards held a banquet onstage, with musicians in the pit, to welcome the newly arrived Flanders Regiment, which had been called to bolster the royal protection for two reasons: first, the French force had been depleted in the wake of the storming of the Bastille, and second, revolutionary sentiments were growing more dangerous by the minute in Paris and the surrounding area. King Louis XVI, Marie Antoinette, and their son briefly attended the banquet, where the guards all pledged the family their loyalty in what Jean-Paul Marat would later describe as a counter-revolutionary orgy. The Flanders Regiment had not arrived a minute too soon: four days later, a group of armed women marched on Versailles and forced the royal family to return to Paris to address their demands.
GPH-15394
$200