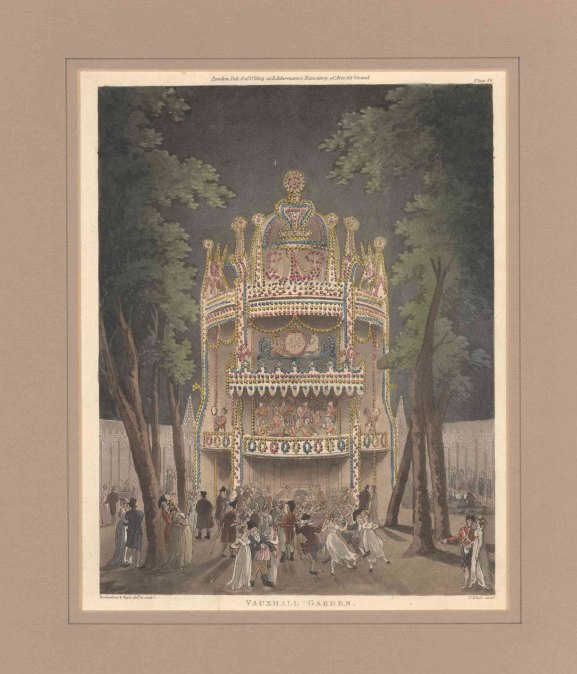 Click Image to Zoom
Enlarge Image
VAUXHALL GARDENS
R. Ackermann's Repository of Arts, London, October 1, 1809. Total size in mat: 15.75" h x 13.5" w (39.5 cm x 34 cm). Total size of print: 12.75" h x 10.5" w (32.5 cm x 26.5 cm). In excellent condition with nice margins.
A lovely aquatint depicting a merry evening around the orchestra stand at Vauxhall Gardens. Elegantly dressed attendees dance and gaze up at the musicians sitting in the illuminated structure, which climbs nearly as high as the trees surrounding it.
Between 1808 and 1810, Rudolph Ackermann published a three-volume set entitled Microcosm of London. The publication offered descriptions of notable London institutions accompanied by illustrations by Augustus Pugin and Thomas Rowlandson: Pugin sketched the architecture and Rowlandson peopled each scene. This aquatint by John Bluck derives from that collection and was issued separately by Ackermann in 1809.
At the time this aquatint was made, Vauxhall Gardens ranked as one of the leading spaces for public entertainment in London. Enormous crowds flocked to the gardens each night to hear concerts, dance, socialize, eat, drink, and watch all manner of novelties, from tight-rope walking to hot-air balloons to fireworks.
GPH-15393
$350