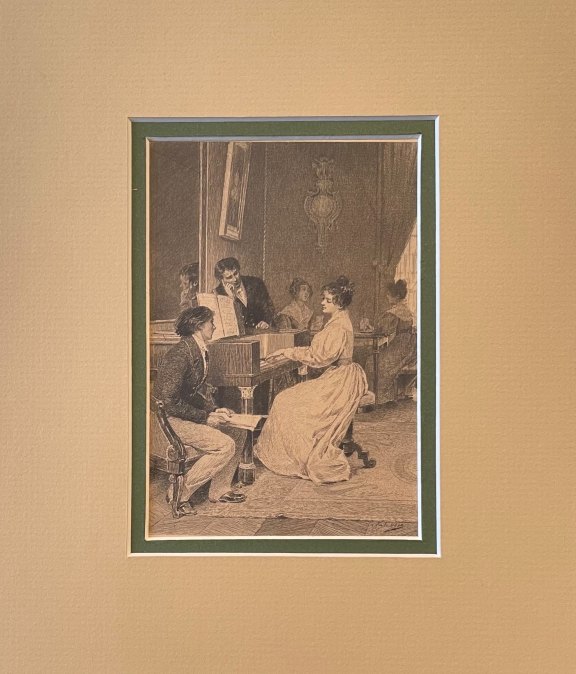 Click Image to Zoom
Enlarge Image
PARISAN SALON MUSIC SCENE
Adan, Louis Emile (1839-1937)
Édition Houssiaux, Paris, early 1900s. Total size in mat: 10.25" h x 8.75" w (26 cm x 22.5 cm). Total size of print: 8.75" h x 6.5" w (22.5 cm x 17 cm). Image in excellent condition. Large water stain at right margin (completely covered by mat); for this reason, mat conceals caption and publishing information.
A copperplate engraving by L. Muller after an original drawing by French artist Louis Emile Adan, depicting a scene from Alphonse Daudet's autobiographical coming-of-age novel Le Petit Chose (1868). The image shows the young and pretty Mlle. Pierrotte playing the piano in a grand salon room as two men sit mesmerized on either side of her. The caption, which is covered by the mat, reads: Nous avions pris place …cachun d'un côte de Melle. Pierrotte.
In 1899, Édition Houssiaux published an eighteen-volume set of Daudet's complete works featuring etchings based on Adan's drawings. This engraving, which seems to have been issued separately by Houssiaux, is almost certainly one of the images from that set.
GPH-15392
$140