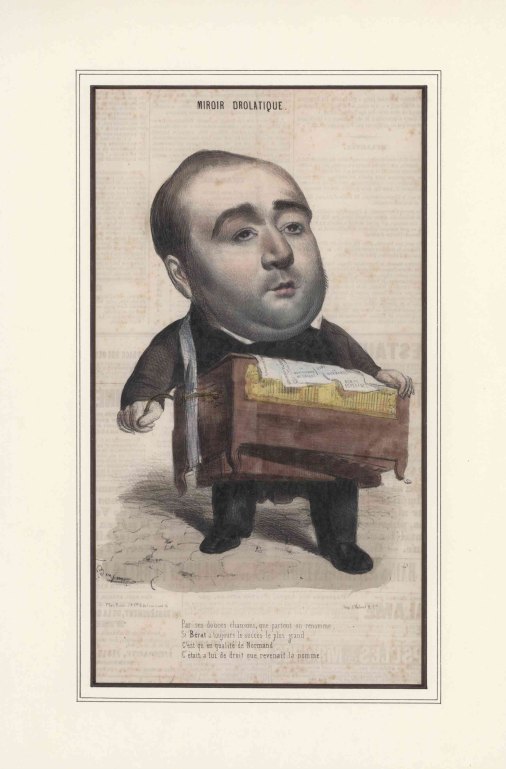 Click Image to Zoom
Enlarge Image
BARREL ORGAN - FRENCH CARICATURE
Bérat, Frédéric (1801-1855)
Miroir Drolatique.
Le Charivari, Paris, mid 19th century. Total size in mat: 17.25" h x 12" w (44 cm x 30 cm). Total size of print: 14" h x 9.75" w (35.5 cm x 25 cm). A bit creased and foxed with horizontal and vertical folds. Bleedthrough from articles on verso (as is typical of periodical publications). Dealer stamp at right margin and small repaired tear to bottom margin (both covered by mat). Overall a nice print in good condition.
A color lithograph of French composer Frédéric Bérat shown cranking a barrel organ. Bérat is best remembered for his song "Ma Normandie," which was the official anthem of Jersey (a British Crown dependency in the Channel Islands belonging to the Duchy of Normandy) from 1836 to 2008. It remains popular today as an unofficial regional anthem of Normandy.
Le Charivari was a Parisian illustrated magazine published from 1832 to 1937. It initially featured cutting satires against political leaders, royalty, and religious institutions, but when the government banned political caricature in 1835, the magazine turned to satires of everyday life. Each issue included at least one lithograph and often featured the work of the best lithographers and satirists of the time.
GPH-15373
$125