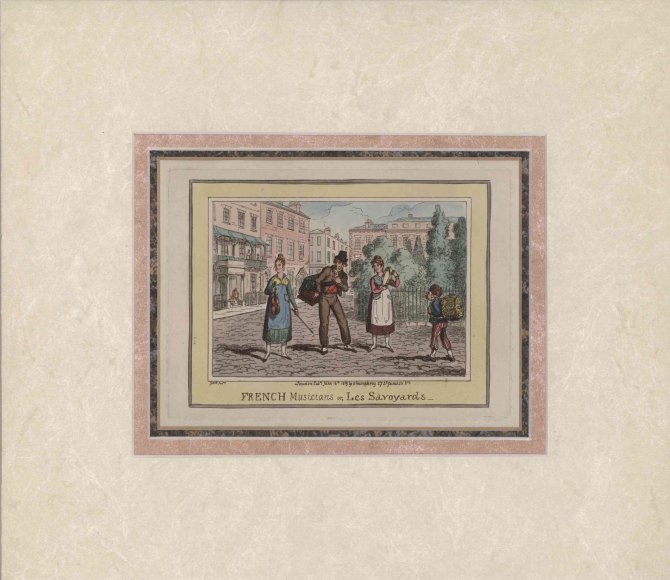 Click Image to Zoom
Enlarge Image
Cruikshank, George (1793-1878)
French Musicians or, Les Savoyards.
London, June 16, 1819. Total size in mat: 11" h x 12.5" w (28 cm x 32 cm). Total print size: 7" h x 9" w (18 cm x 22.5 cm). First state. With early hand-coloring and wide margins. In excellent condition. Presented in a decorative marbled triple mat.
In a cobblestoned London square, three musicians walk rather discontentedly as a small errand boy watches on.
This is the sequel to Cruikshank's satirical etching of 1818, A little Music à la Françoise, Les Savoyards, which depicts the same subjects performing on a busy London street.
In the mid seventeenth century, musical peasants from the alpine region of Savoy began working as street entertainers. Trained marmots and dogs, as can be seen in the background of this engraving, were common features of their performances. Harsh economic conditions in Savoy, though, soon forced these musicians to seek audiences elsewhere. Many fled to nearby Paris, but a sizable number settled in London, where they continued the performance tradition for over a century. This engraving is one of many eighteenth-century examples of English prints on the subject of "The Savoyard".
GPH-15355
$275