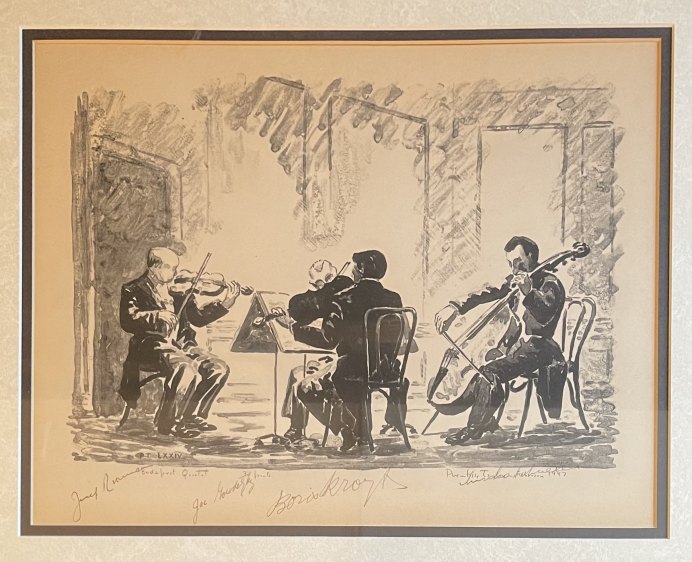 Enlarge Image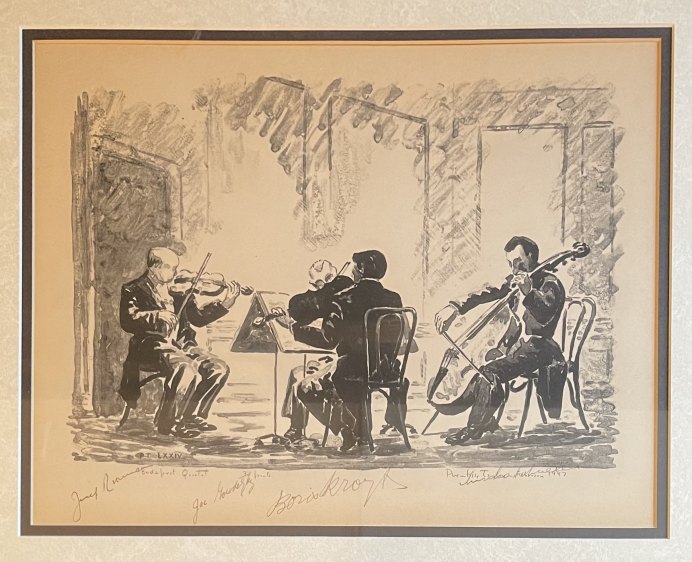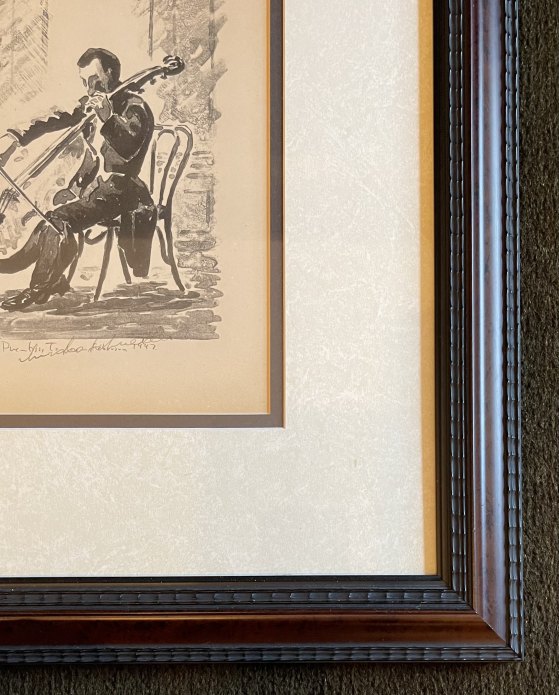 BUDAPEST QUARTET
Taylor, Prentiss (1907-1991)
Framed Signed Lithograph
Total size in frame: 19.5" h x 23" w. Pristine condition.
Signed by each member at the time.
A handsome, nicely framed and signed portrait of the famous Budapest Quartet, in existence from 1917 until 1967 and considered one of the leading string quartets of all time. The quartet was called The Budapest in honor of the city which Hubay and Popper had made a famous music center and was the first quartet to attempt living entirely on the proceeds of its concerts. The four friends established the following rules:
All disputes, musical or business, were to be resolved by a vote. In case of a tie, no change. Players were not allowed to take engagements outside the quartet. Players were paid equally, with nothing extra for the leader (first violin). No wives or girlfriends were permitted at rehearsals or discussions.
Much later, in July 1930, the current members added another rule to resolve tied votes: One player, chosen by lot, would have a deciding vote. His initials would be written on the music, and he would always have the extra vote for that piece. If he was replaced, his successor would inherit his voting rights.
Each member of the quartet has signed beneath his image: Josef Roisman (first violin), Jac Gorodetsky (second violin), Boris Kroyt (viola), and Mischa Schneider (cello). Interestingly, the second violinist position is signed by Jac Gorodetsky who actually did not replace Edgar Ortenberg until 1949, two years after the date of this print.
This lithograph is one of thirty signed and dated impressions on wove paper, each initialed and numbered in the stone in lower left corner PT LXXIV (that number referring apparently to Taylor's opus). Underneath the image Taylor has penciled Budapest Quartet…30 prints…Prentiss Taylor, February 1947.
The print was included in the 1948 Smithsonian Institution exhibition entitled "Lithographs of Prentiss Taylor" and in the 1973 Cleveland Institute of Music exhibition "Lithographs and Drawings of Musical Subjects."
Prentiss Taylor was an American illustrator, lithographer, and painter. He had a notable career, centering mainly in Washington D.C. and New York. He was a close friend of Aaron Copland, Carl van Vechten, and Langston Hughes at the time of the emergence of the Harlem Renaissance.
GPH-15044
$1,200