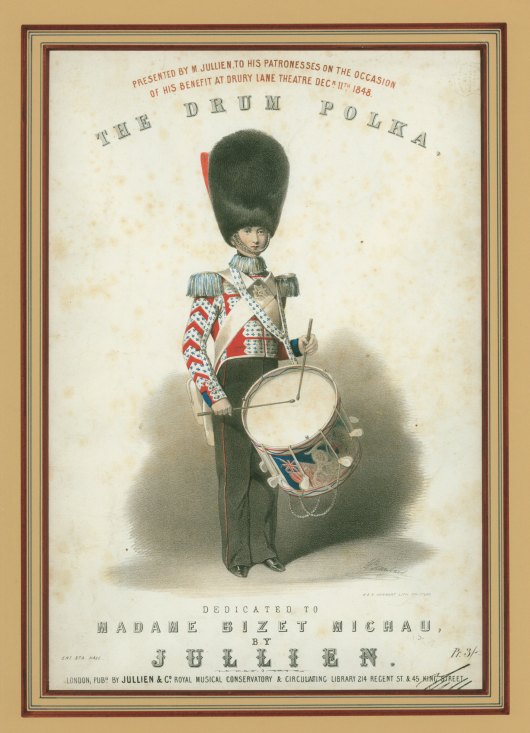 Click Image to Zoom
Enlarge Image
DRUM, MILITARY - SHEET MUSIC COVER
"The Drum Polka"
London, c. 1848. Decoratively matted with a total dimension of 19" h x 15.25" w (50.2 cm x 38.7 cm). Some light spotting, otherwise very good. Lithograph with hand-coloring. Engraved by John Brandard and published by Louis-Antoine Jullien.
Music cover sheet depicting a boy dressed in military uniform with epaulettes and fur hat, standing to front, playing a drum suspended around his neck and left shoulder. Above the title: Presented by M. Jullien, to his patronesses on the occasion of his benefit at Drury Lane Theatre Dec. 11th 1848 and below the image: Dedicated to / Madame Bizet Michau, / by / Jullien. / London; Pubd, by Jullien & Co. Royal Musical Conservatory & Circulating Library 214 Regent St & 45 King Street'.
The French conductor/bandleader and composer of light music Louis-Antoine Jullien, (1812-1860) worked for many years in England where he became a household name. He was known for his large bands which he managed to outfit with some of the best performers of the day.
GPH-14190
$125