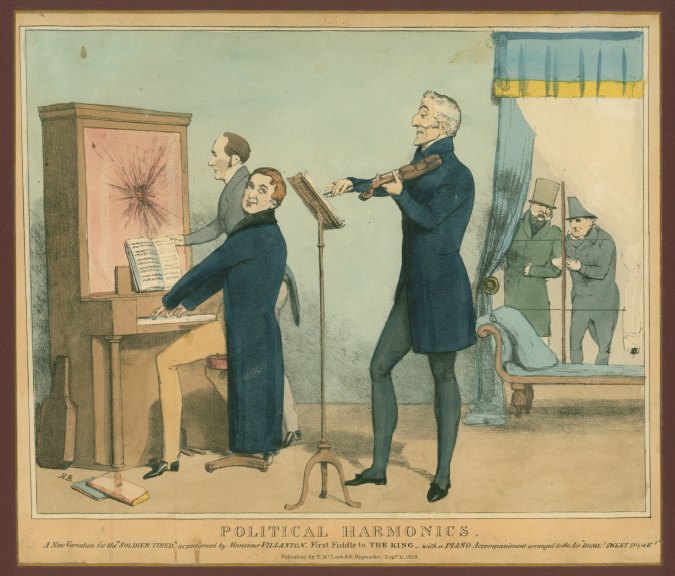 Click Image to Zoom
Enlarge Image
ENGLISH CARICATURE - POCHETTE & VERTICAL PIANO
"Political Harmonics"
London, 1829. Matted with a total size of 17" h x 19" w. Laid down on another sheet and slightly rumpled; small stains on upper left and bottom margins. Nonetheless in good overall condition. Trimmed to black border at top and bottom, retains margins on right and left. Cat. Of Political and Social Satire #15856.
A wonderful hand-colored lithographic caricature by H.B. titled Political harmonics, with the further note beneath the title: A New Variation for the 'Soldier Tired' as performed by Monsieur Villanton, First Fiddle to the King - and with a Piano Accompaniment arranged to the Air 'Home! Sweet Home!'. Peel sits at the piano smiling over his shoulder at the Duke of Wellington who is playing a pochette. The man turning pages for Peel is Chancellor to the Exchequer Goulburn. Cumberland and Eldon peer into the room from a window.
The subtitle
A New Variation for the 'Soldier Tired'
refers to the aria from Thomas Arne's enormously popular opera
Ataxerxes
, composed in 1762.
A pochette, or kit, is a small violin used primarily by dancing masters in the eighteenth and early nineteenth centuries. Wellington in fact played the violin as a young man.
GPH-12412
$400