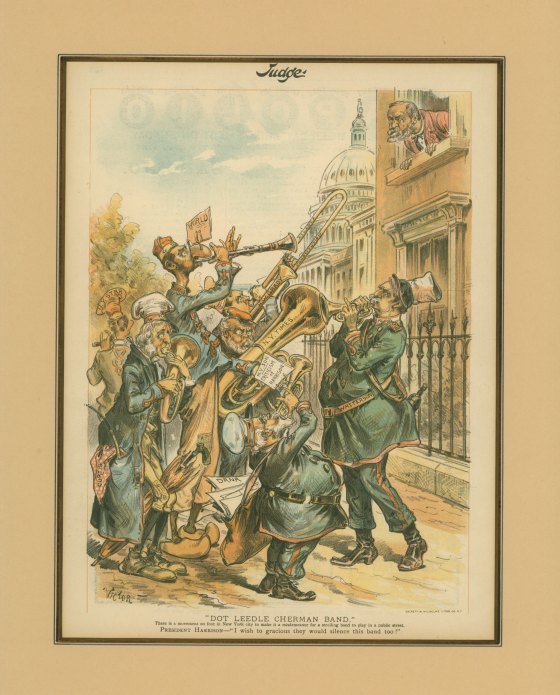 Click Image to Zoom
Enlarge Image
BRASS INSTRUMENTS - CARICATURE OF 19TH-CENTURY NEW YORK CITY BANDS
Gillam, Frederick Victor (c. 1858-1920)
Dot Leedle Cherman Band.
Judge magazine, New York, c. 1889. Total size in mat: 18" h x 15" w (45.5 cm x 38 cm). Total size of print: 13.5" h x 10.25" w (33.5 cm x 26 cm). In excellent condition. Very faint imprint from text on verso and a bit of creasing from former binding at left margin (both typical of periodical publications).
An interesting memento of New York City history.
A colored lithograph from the weekly satirical magazine Judge, which was published in the United States from 1881 to 1947. The artist of this caricature, known as Victor, was an immigrant from England and worked for Judge magazine for over twenty years. The image depicts a brass band in blue uniform playing outside the window of a disgruntled President Benjamin Harrison. Each instrument bears the name of a different newspaper and in the background the Capitol Building can be seen. An explanatory caption at the bottom reads: There is a movement on foot in New York city [sic] to make it a misdemeanor for a strolling band to play in a public street. PRESIDENT HARRISON--"I wish to gracious they would silence this band too!"
In the summer of 1889, the controversy over itinerant street bands in New York City reached a fever pitch. The bands were largely comprised of newly arrived German immigrants who were not yet eligible to join musical unions and who had little other opportunity for employment. While many city residents enjoyed their performances -- some of which were known to start as early as nine o'clock in the morning -- others found the bands a nuisance, and union musicians showed them little sympathy. Public debates ensued and newspapers were littered with letters to the editors on the subject.
One man on 115th street grew so upset with the band outside his building that he attached a garden hose to the faucet of his bathtub and sprayed the musicians from his second-story window. The New York Times reported on July 22, 1889: The man waited no longer. The time as well as the tune was ripe for vengeance. His aim was good and there was a strong head of water on…there dropped a deluge, right into the big round funnel of the tuba.
GPH-12404
$300