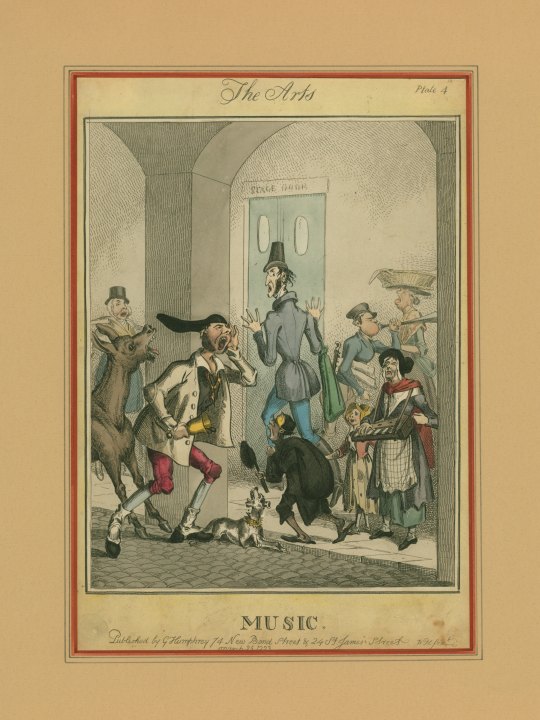 Click Image to Zoom
Enlarge Image
STAGE DOOR - ENGLISH CARICATURE
Heath, William
The Arts. Music.
G. Humphrey, London, March 25, 1823. Total size in mat: 15.75" h x 13" w (40.5 cm x 33 cm). Total size of print: 11.5" h x 8" w (29 cm x 21.5 cm). In very good condition. Trimmed to plate edge. (Small stain at bottom right and chip at right margin, both covered by mat).
A hand-colored etching depicting a comic scene outside what is almost certainly meant to be the Covent Garden stage door. Several tradespeople and street musicians, including a dustman bell-ringer, blind hurdy gurdy player, child singer, shouting chimney sweep, and horn-blowing newsboy, accost a handsomely dressed but horrified man who carries an instrument case into the theater. A neighing donkey and barking dog likewise contribute to the rabble.
The royal theater at Covent Garden was a lively and interesting place of amusement in the first quarter of the nineteenth century. Although opera and ballet dominated the bills, one could also see child prodigies, clowns, celebrated Shakespearians, and pantomimes on its stage. It also boasted bare flame gaslights by 1817, marking a novel and vast improvement over the candles and oil lamps of the previous decades.
GPH-12368
$350