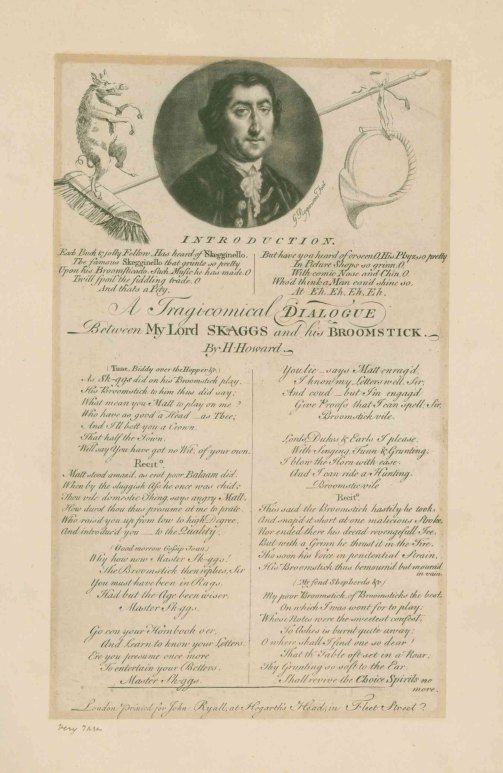 Click Image to Zoom
Enlarge Image
BROADSIDE - ENGLISH, 18TH CENTURY
A Tragicomical Dialogue Betweeen My Lord Skaggs [sic] and his Broomstick.
1752. 10.75" h x 6.50" w (27cm x 17cm). In excellent condition. Laid down on a larger sheet with outline from former framing.
Skeggs and his broomstick cello.
A rare broadside with a mezzotint portrait of Matthew Skeggs after G. Pigganinne and with engraved dialogue by H. Howard, published by John Ryall in 1752. Skeggs was a popular burlesque performer who was known for using a broom as a cello.
There is a scarce full portrait of Skeggs that comes to market from time to time, but this broadside is especially rare and the only copy we have seen.
Edward Edwards, a contemporary of Matthew Skeggs, reflected on the actor's performances in a book of 1808: …there was a burlesque entertainment exhibited at the little theatre in the Haymarket, called 'Mother Midnight's Oratorio,' in which Skeggs bore a part as a musical performer, by playing upon a broom-stick, his voice, which was tolerably good, supplying the tones of the instrument. Skeggs, like most of such would-be wits, wanted prudence, and, in the latter part of his life, was obliged to retire to Shefford in Bedfordshire, where he resided in 1772.
GPH-11077
$1,200