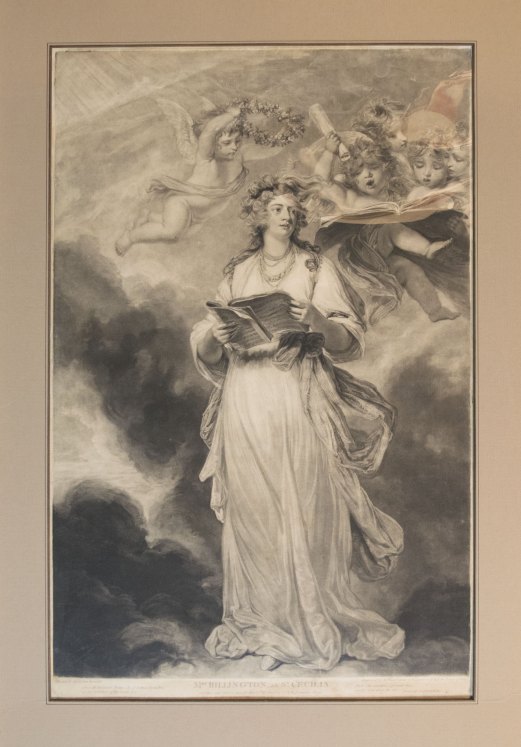 Click Image to Zoom
Enlarge Image
BILLINGTON- PORTRAIT AFTER REYNOLDS
Ward, James (1723-1792)
"Mrs. Billington as St Cecilia"
1803. 26"h x 16.50" w. ( 683 x 417 mm). Total size in mat: 31.25" h x 25" w. Overall appearance is excellent with only a couple of very tiny tears on upper edge, a couple of small slight creases and the bottom label a bit soiled. Trimmed to near the platemark.
A fine impression of this large well-known and marvelous mezzotint by James Ward (1723-1792) after the oil painting by Sir Joshua Reynolds, showing the great 18th-century soprano standing full-length portrayed as St. Cecilia, the patron saint of music. She is holding a score and appears to be singing together with a group of four cherubs above her, while another is placing a wreath on her head.
Elizabeth Billington's (1765-1818) mother was a pupil of Johann Christian Bach and Elizabeth also had some lessons with him. Her operatic debut took place in Dublin in 1784. She appeared in London in 1786 as Rosetta in Love in a Village and her success was immediate and catapulted her into a long and illustrious career in England and Italy. Many operas were written for her and her colorful personal life gave rise to much gossip.
GPH-10699
$850