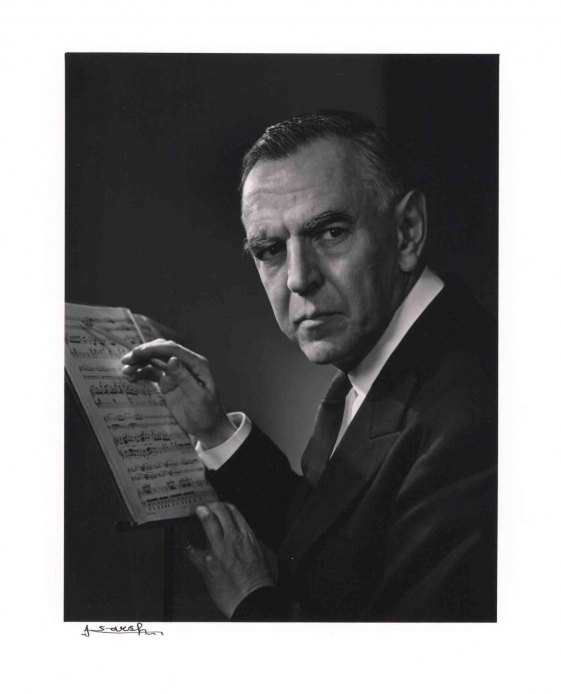 Click Image to Zoom
Enlarge Image
Mannes, Leopold (1899-1964)
Original Signed Photograph by Karsh.
Signed "Y Karsh" in black ink on the lower left of the image. Early 1950s. Image is 8" h x 6" w. total size in original mat is 13" h x 10" w. In pristine condition. Presented in the original Karsh studio photograph.
A stunning black-and-white gelatin silver photograph of Leopold Mannes by the eminent Canadian photographer Yousef Karsh. Mannes is shown marking as he looks to the side.
Leopold Mannes was a pianist, educator, and President of the Mannes College of Music (founded by his parents), as well as the co-inventor, along with fellow musician Leopold Godowsky, Jr., of the Kodachrome color process for cinematography and still photographs. Mannes was the nephew of the famous conductor Walter Damrosch and of the composer Frank Damrosch and himself a highly influential figure in America's musical life.
Yousef Karsh (1908–2002) was born in Turkey, fleeing as an Armenian genocide survivor to Canada. He is considered one of the most important portrait photographers of the 20th century, known especially for his portraits of famous statesmen and men and women in the arts and scientists, including Churchill, Einstein, Martin Luther King, Queen Elizabeth and Hemingway among so many more. When asked once why he almost exclusively captured famous people, he replied, I am working with the world's most remarkable cross-section of people. I do believe it's the minority who make the world go around, not the majority.
PHO-15316
$1,500