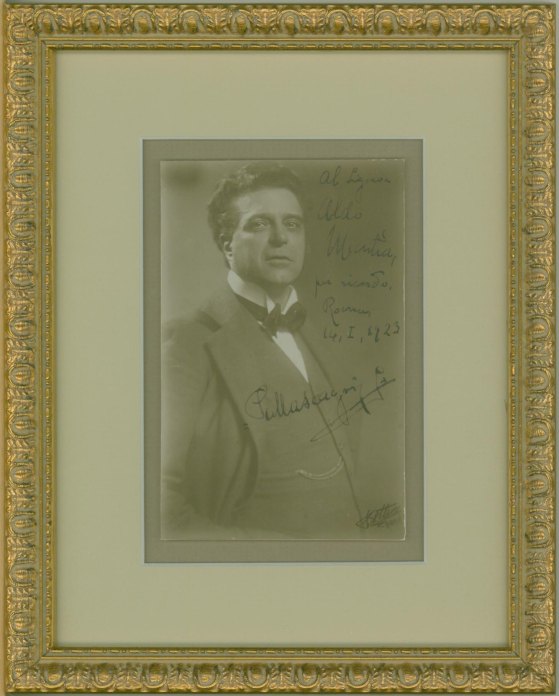 Click Image to Zoom
Enlarge Image
Mascagni, Pietro (1863-1945)
Photograph Signed
"P. Mascagni". To Aldo Mantia. January 14, 1923. Photograph size: 5" h x 3.25" w. Total size in frame: 9"h x 7.25" w. In fine condition in a decorative gold frame.
An original cabinet photograph of the opera composer inscribed to the Italian pianist-composer Aldo Mantia, who was only twenty at the time.
This portrait was taken during the year Mascagni wrote his symphonic poem Visione Lirica and in the year of a major dispute he had with the impresario Walter Mocchi. The New York Times reported on March 16: MASCAGNI INSISTS ON DUEL…Composer Refuses Reconciliation with Mocchi, the Impresario….with whom he came to blows at a music congress in the Lyric Theatre…Mascagni accused Mocchi of a lack of patriotism in that he had promoted German music in South America….Mocchi called into question Mascagni's ability as an orchestral director and proposed that the music congress form a jury of honor to deal with the dispute.
PHO-14772
$385