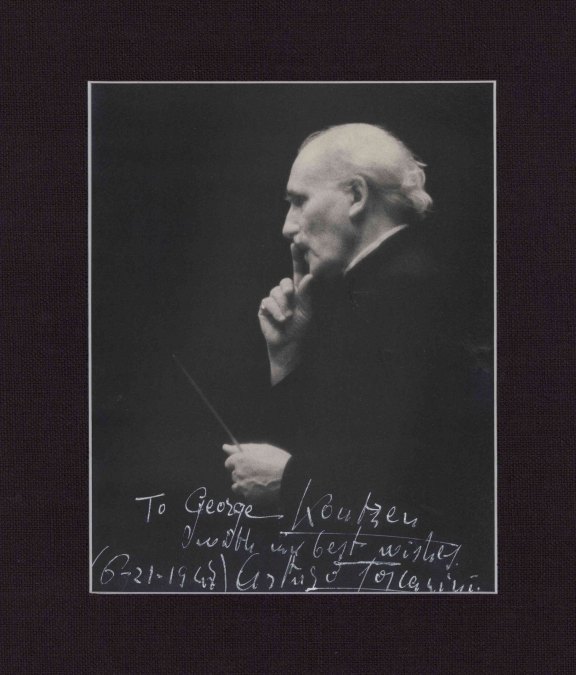 Click Image to Zoom
Enlarge Image
Toscanini, Arturo (1867-1957)
Photograph Signed
"Arturo Toscanini". To "George Koutzen". June 21, 1947. Total size in mat: 13" h x 11.5" w. In very good condition.
A dramatic black and white matte photograph of the great Italian conductor looking contemplative with baton in hand, and which he has inscribed in white pen to the cellist-conductor George Koutzen. The photograph is distinctively matted in black linen.
In 1947, the year of this photograph's inscription, Toscanini was still the conductor of the NBC Symphony Orchestra, an ensemble created expressly for his leadership ten years earlier. The enterprise was afforded every conceivable resource to ensure Toscanini's satisfaction and success, including a new broadcast studio at Rockefeller Center and year-long contracts that ensured the highest orchestral salaries in the country.
Among the symphony's instrumentalists was the recipient of this photograph, cellist George Koutzen (1926-2009). Koutzen played with the NBC Symphony Orchestra and New York String Sextet, but is perhaps best remembered as the conductor of the Suburban Symphony in New York, a post he held for 13 years. He was also the son of the noted violinist Boris Koutzen.
PHO-14758
$750