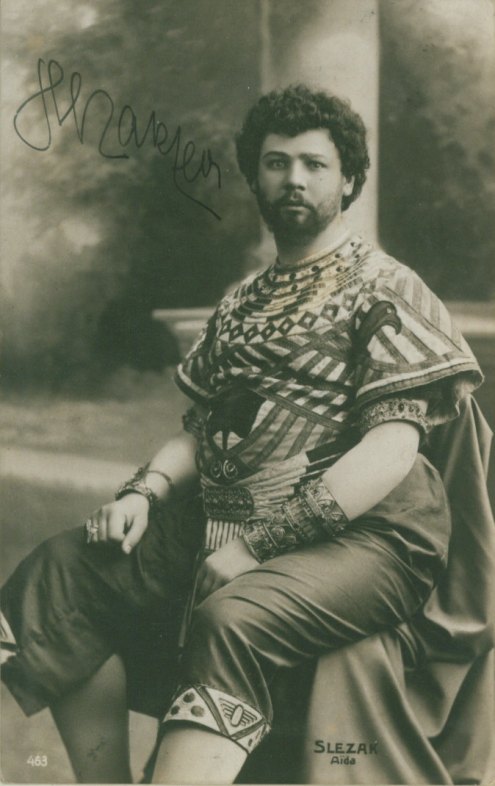 Click Image to Zoom
Enlarge Image
Slezak, Leo (1873-1946)
Postcard Photograph as Radames
Signed "Leo Slezak". Very good condition.
Bold signature of Czech tenor Leo Slezak, in the prime of his career, in costume as Radames in Verdi's Aida. The postcard is Viennese, Vienna being his artistic home (from 1901 on he was a permanent member of the Vienna State Opera roster).
One of the most exciting, characterful dramatic tenors of the early 20th century, Leo Slezak spent three busy seasons at the Metropolitan Opera between 1909 and 1913, and sang Radames in Aida a couple of months after his debut. "The Tall Tenor a Gorgeous Sight in Metropolitan Presentation," read one of the headlines of W.J. Henderson's review in the New York Sun, which added "Leo Slezak robed in a tunic sparkled with gems made the most imposing Radames of recent years in last night's Aida at the Metropolitan Opera House … Expression was a foremost factor, without demanding any sacrifice of beauty … Artistic purpose and sincerity underlay all that he did and the large audience made plain its enthusiastic appreciation of the new Radames."
PHO-07924
$250