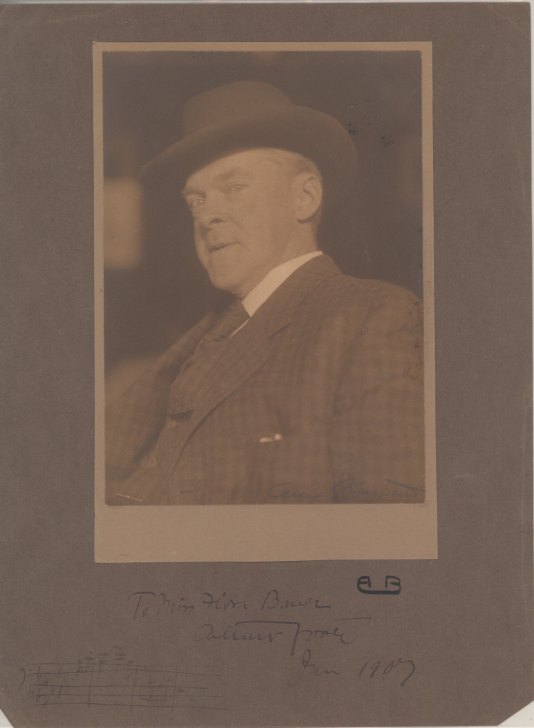 Click Image to Zoom
Enlarge Image
Foote, Arthur (1853-1937)
Photograph with Autograph Musical Quotation Signed
"Arthur Foote". "To Miss Flora Bauer". 9" h x 6" w. With signature of photographer ("Alice Boughton"). In very good condition despite minor stains to the right of Foote's hat and at his shoulder. The photograph is laid down on a small piece of beige cardstock, which has then been laid down on a dark brown mat. Photograph beginning to lift. Corners of mat chipped and a bit creased (not affecting).
A handsome three-quarter portrait sepia photograph of the American composer wearing a checkered suit and brimmed hat. Foote has signed and inscribed the bottom of the mat to Miss Flora Bauer (almost certainly the sister of American composer Marion Eugénie Bauer), adding a three-bar musical quotation in bass clef at the lower left corner.
The photographer, Alice Boughton (1866-1943), has also signed the bottom right corner of the image in pencil and decoratively sketched her initials, AB, on the mat as well. Alice Boughton was a native New Yorker who was best known for her portraits of important literary and artistic figures at the turn of the twentieth century. She also played an important role in elevating photography into a fine artform and in promoting the work of female photographers.
PHO-01925
$650