Enlarge Image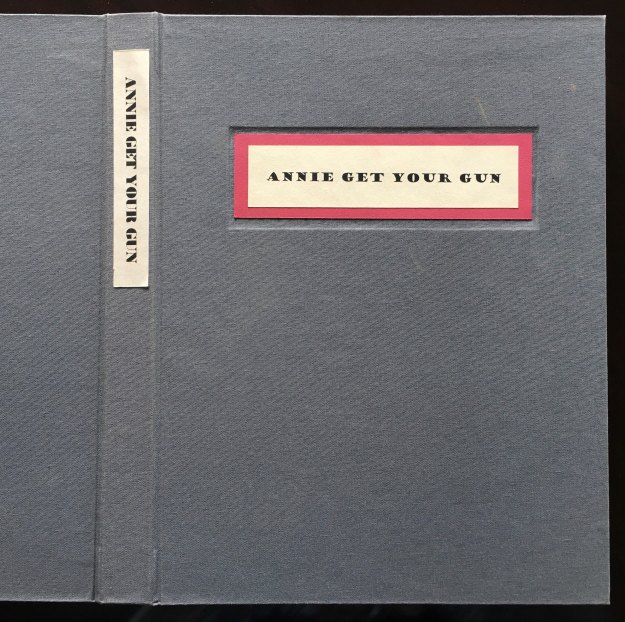 Berlin, Irving (1888-1989)
Annie Get Your Gun. Vocal score.
Irving Berlin Ltd.: London, 1947. Pl.n: 3553.

first edition

, likely second issue. Quarto. 143 pp. Original laminated color wrappers. Housed in a custom gray linen box lined with red paper to match score wraps. In excellent condition. (Front wrapper and margins throughout lightly toned).
Inscribed score of Berlin's most famous musical, Annie Get Your Gun
Signed in blue ballpoint pen on the front cover by the incredibly important composer who in this case was also the librettist. The inscription is to the noted American musical biographer Edward Jablonski, who wrote definitive biographies of George Gershwin, Harold Arlen, Alan Jay Lerner, and Irving Berlin: To Ed Jablonski | with my best always, | Irving Berlin.
This score is likely a first edition, second issue: the music is dated 1947, but the wrappers are dated 1950. (The second issue would have thus coincided with the release of the film version of the musical in 1950). This copy was printed and sold in Britain (as per the front wrapper) and includes a cast list of the first London production (1947).
Annie Get Your Gun is unquestionably Berlin's most famous and beloved musical. Rogers and Hammerstein, the first producers of Annie Get Your Gun, had originally asked Jerome Kern to write the music. Kern accepted the offer but died just three days after starting work on the score. Irving Berlin agreed to take up the project on the condition that he write the lyrics himself. Annie Get Your Gun would become his most successful musical, owing to the catchy tunes and witty rhymes of songs like "There's No Business Like Show Business" and "Anything You Can Do (I Can Do Better)". The musical's initial run in New York totaled an impressive 1,147 performances.
SSC-15098
$5,000