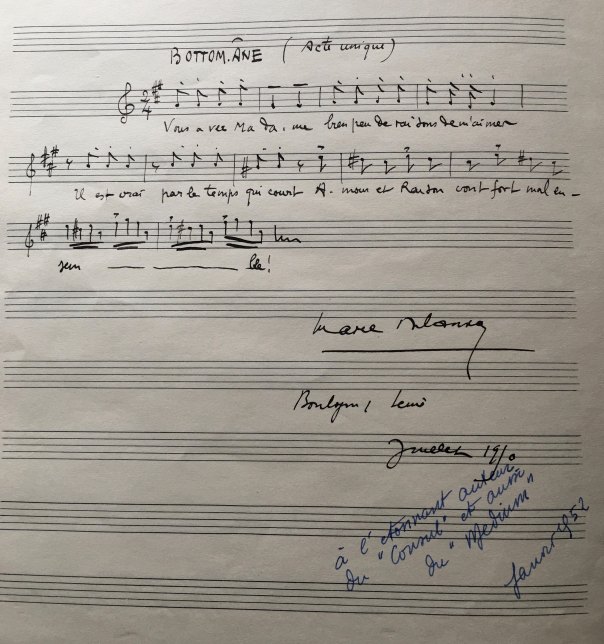 Enlarge Image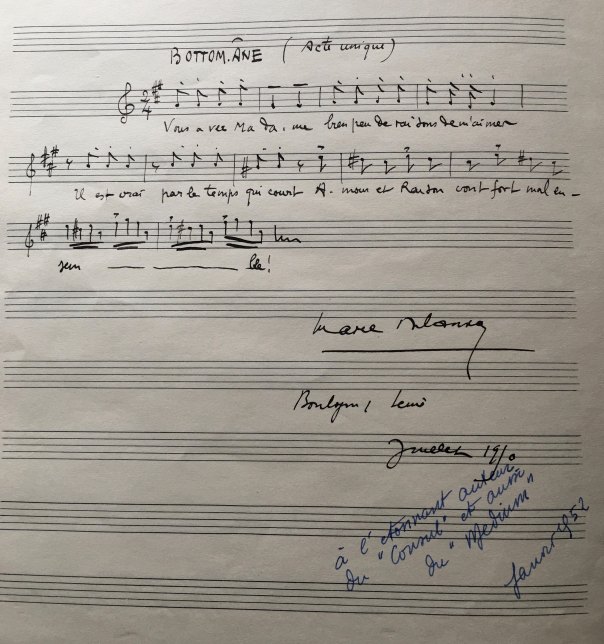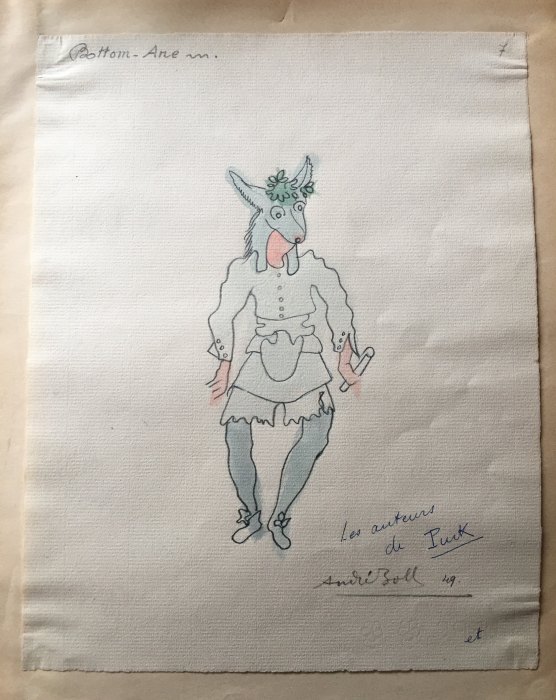 Delannoy, Marcel (1898-1962)
Puck. Opera-Féerique en Trois Actes. Inspiré "Songe d'Une Nuit d'Éte" de Shakespeare. [Vocal score]
Likely self-published: 1950.

first edition

; No. 7 of an issue of 150. Large quarto. 253 pp. French- and German-language score. Paper wraps. Spine beginning to lift; a few minor tears to edges of front cover. Pages a bit toned at margins, but otherwise very good and clean.
Pasted to the verso of the second blank is a sheet of music paper with an autograph musical quotation by Delannoy
, replete with lyrics and titled
Bottom Âne (Acte unique)
. (This is a reference to the character Nick Bottom, who repeatedly has his head turned into that of a donkey by Puck.) Delannoy signs and dates the quotation
Julliet 1910
.
Pasted to the recto of the second blank is a signed pencil and watercolor of Nick Bottom by the opera's librettist and original costume designer, André Boll.
Someone has written in blue ballpoint pen on both of these pasted pages, identifying both the composer and librettist (and just affecting the date of Delannoy's inscription).
Delannoy is not much referred to these days but Ravel said of him that he is the finest composer we have in France. In addition to a few operas and other works, he wrote many ballets and film scores. Puck premiered at the Opéra Municipal in Strasbourg on 29 January 1949 to a positive reception. It is unclear if the opera was ever published in full orchestral score.
SSC-15097
$225