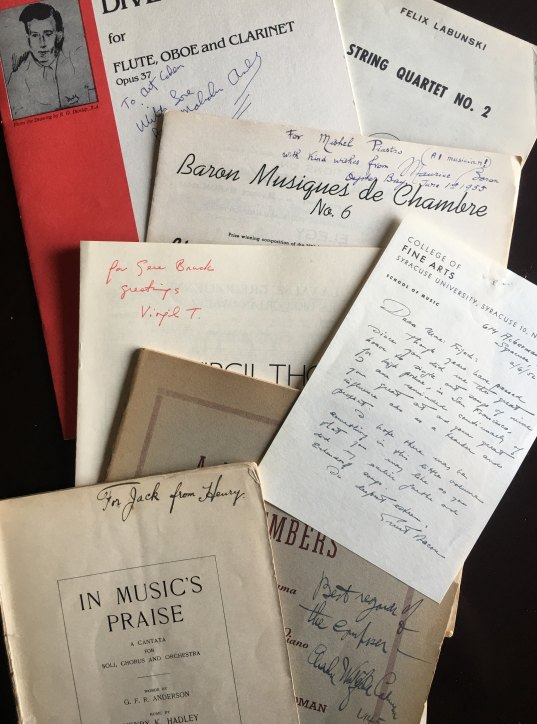 Click Image to Zoom
Enlarge Image
AMERICAN SIGNED SCORES - GROUP OF TEN
Ten first-edition signed scores by American composers.
FIRST EDITIONS. Excellent condition overall. See additional notes below.
Ten first-edition scores, all inscribed and signed by the composers:
Arnold, Malcom. Divertimento for Flute, Oboe and Clarinet. Op. 37. Carl Fischer: New York, 1967. Quarto. 11 pp. Wrappers. As new.
Bacon, Ernst. Quiet Airs. Syracuse University Press: 1952. Quarto. 23 pp. Wrappers. Pin hole on top of front cover; otherwise fine. Together with one-page autograph letter from the composer to the dedicatee.
Baron, Maurice. Variations On L'Amour de Moy (15th Century) for Grand Orchestra. Fifth Variation: Elegy for Violoncello, Flute and Harp (or Piano). Individual parts. M. Baron Company: New York, 1955. Quarto. 3 + 1 + 1 pp. Very good condition. Inscribed to New York Philharmonic concertmaster Mishel Piastro.
Cadman, Charles Wakefield. A Mad Empress Remembers: Tone Drama for Violoncello and Piano. Mills Music: New York, 1945. Quarto. 32 pp. Wrappers. Upper-right corner of cover torn and chip to bottom (not affecting). A little toned around edges, but otherwise fine.
Dubensky, Leone. Concerto in Re Minore per Violino e Orchestra. Piano reduction and solo violin part. Ricordi: Milan, 1951. Quarto. Wrappers. 35 + 16 pp. With former owner's signature on front cover and violin part, and his penciled fingerings to violin part. In very good condition.
Hadley, Henry. In Music's Praise, Op. 21. [Piano-vocal]. Oliver Ditson & Co.: Boston, 1900. First edition of piano-vocal score. Wrappers; decorative cover. Spine and cover ragged; front cover detached. Otherwise clean and good.
Jacobi, Frederick. Concertino for piano and string orchestra. Elkab-Vogel: Philadelphia, 1947. Wrappers. Front cover torn and detaching (not affecting inscription). Otherwise excellent.
Labunski, Felix. String Quartet No. 2. Study score. Cincinnati: Self-published, 1962. Octavo. 36 pp. Wrappers. Fine condition (front cover with creases at corners).
Laderman, Ezra. Stanzas for Chamber Orchestra. Oxford University Press: New York, 1968. Quarto. 89 pp. Wrappers. As new.
Thomson, Virgil. La Valse Grégorienne for voice and piano. New Music Society: New York, 1980. Quarto. Cover design by Pablo Picasso. As new.
SSC-15080
$350