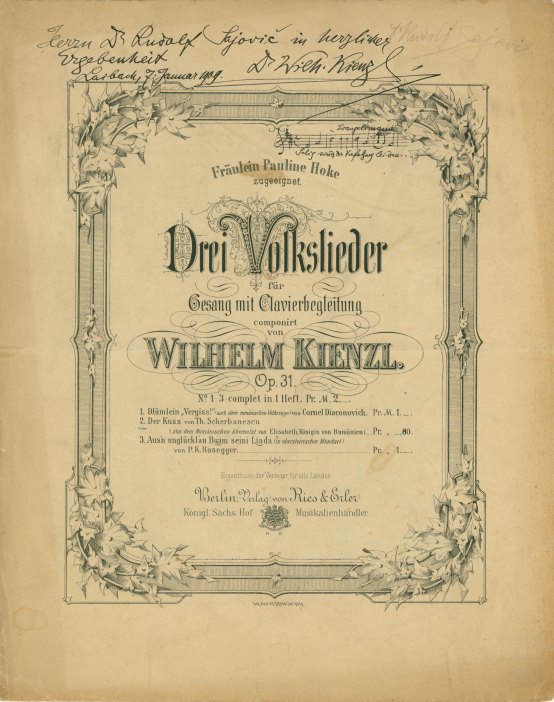 Click Image to Zoom
Enlarge Image
Kienzl, Wilhelm (1857-1941)
Ries & Erler: Laibach, [c 1888]. Pl.n: R.4471E. (Publication date as per plate number). Large quarto. 3 pp. Horizontal fold with scattered spotting. In good condition overall.
Sheet music for the song "Der Kuss" ("The Kiss"), signed and inscribed on the title page by the German composer. Beneath his signature, the composer also adds a four-bar musical quotation from the popular chorus "Selig sind, die Verfolgung leiden um der Gerechtigkeit willen" from his opera Der Evangelimann (1895).
Wilhelm Kienzl was a major figure in the musical and cultural life of Austria from the 1890s until the 1930s. He was a friend of Wagner as well as a pupil of Liszt. Der Evangelimann was Kienzl's most successful opera, enjoying frequent performances throughout Germany and Austria for a few decades, as well as the support of prominent conductors including Gustav Mahler, Richard Strauss, and Felix Mottl.
SSC-14373
$375