Enlarge Image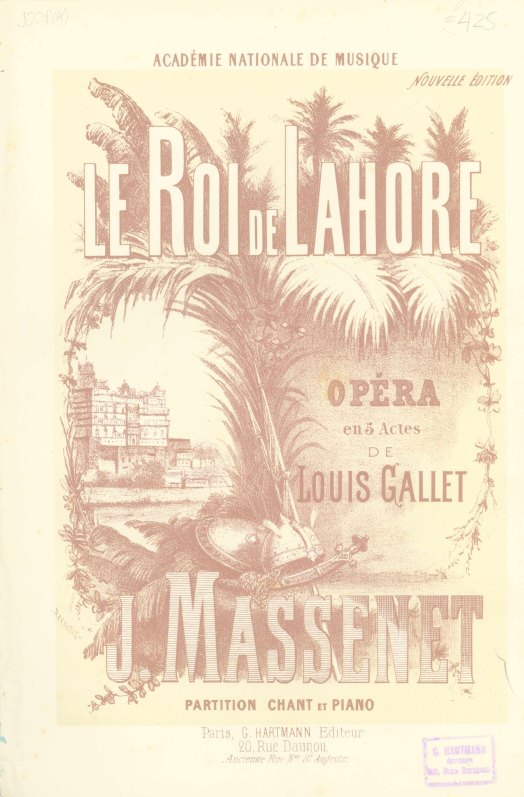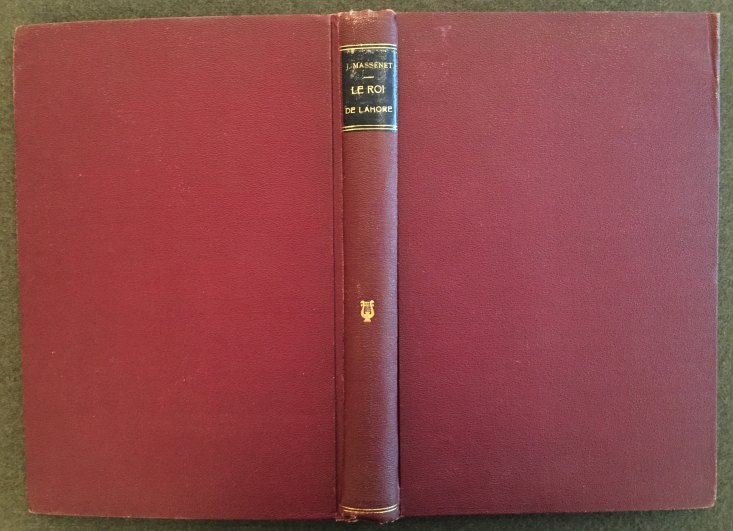 Massenet, Jules (1842-1912)
Le Roi de Lahore. [Vocal score]
G. Hartmann: Paris, [1877]. Pl.n: G. H. 910.

first edition

of piano-vocal score. Small quarto. 363 pp. Pebbled maroon buckram boards. In very good condition (one corner bumped and dealer stamp to title page, not affecting).
Inscribed on the very day of the premiere.
Inscribed on the first blank with a reference to the opera's premiere: à mon cher Mr. B. Ullman | bien sympathique souvenir. | J. Massenet | Paris 27 avril /77 | 1em présentation (opéra) | (direction Halanzier).
The inscription is presumably to the American impresario Bernard Ullman, who, after years of overseeing successful productions in New York City, moved to Europe to manage Carlotta Patti and Christine Nilsson between 1865 and 1877.
This first-edition piano-vocal score dates to the same year as the opera's premiere (publication date as per plate number). (It is unclear if a full orchestral score was ever published.)
In his memoir, Massenet recounts how concerned he was upon completing Le Roi de Lahore (which comprised an astounding eleven hundred pages of manuscript!) that the opera would never be staged – but a chance meeting on the street with Opéra director Olivier Halanzier in January 1877 paved the way for the work's premiere. Although the two men had never spoken before, Halanzier knew of Massenet and asked about his recent activity. When Massenet revealed he had recently finished a new opera, Halanzier invited him to play through it the next night at his apartment. The opera's first performance followed in April 1877. Massenet's gratitude for Halanzier's interest is reflected in his noting the director in this inscription.
SSC-13912
$1,500