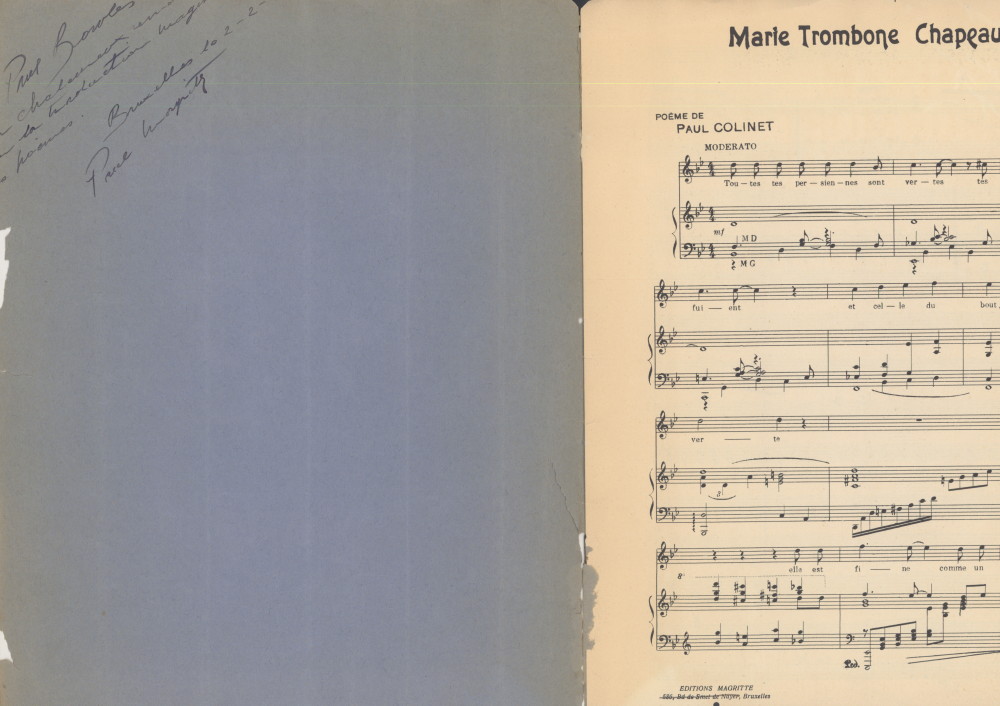 Click Image to Zoom
Enlarge Image
Magritte, Paul (1902-1975)
Marie Trombone Chapeau Buse
Editions Magritte: Brussels 13" h x 10" w. 4 pp. Cover illustration by René Magritte. Paper wraps. Spine split at top and bottom, edges of cover and interior pages chipped, inscription cropped, otherwise a very good legible copy.
Paul Magritte, brother of the great surrealist painter René Magritte, set this song to a text by Belgian surrealist poet Paul Colinet. Formerly the copy of the writer and composer Paul Bowles, with an inscription (in French) to him by the composer on the inside cover, thanking him for the translation of the poetry.
"Marie Trombone Chapeau Buse" was Colinet's first published work and is a collaboration emanating from his new friendship with the Magrittes in 1933; his poem, set to music and published by Paul Magritte and with an illustrated cover by René Magritte. Altogether, with the inscription to Paul Bowles, an intriguing association piece.
René Magritte had a little-known early commercial career in the 1920's, earning money as a draughtsman and designing graphic ephemera, among which were some 40 sheet music covers.
SSC-10975
$500