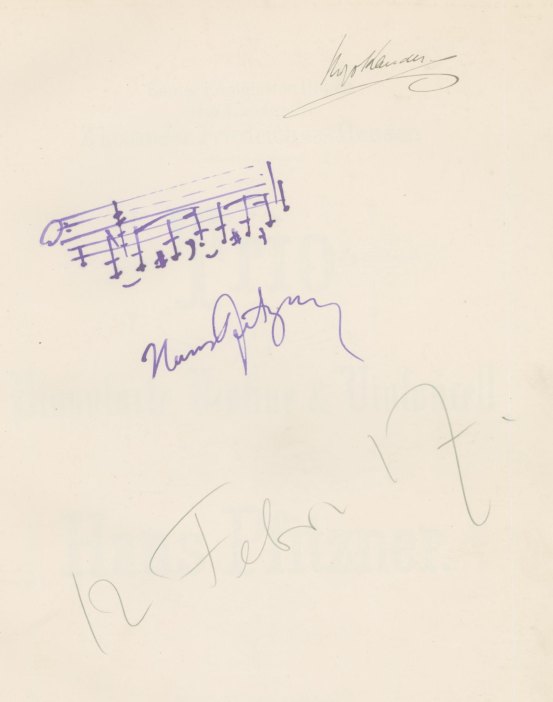 Enlarge Image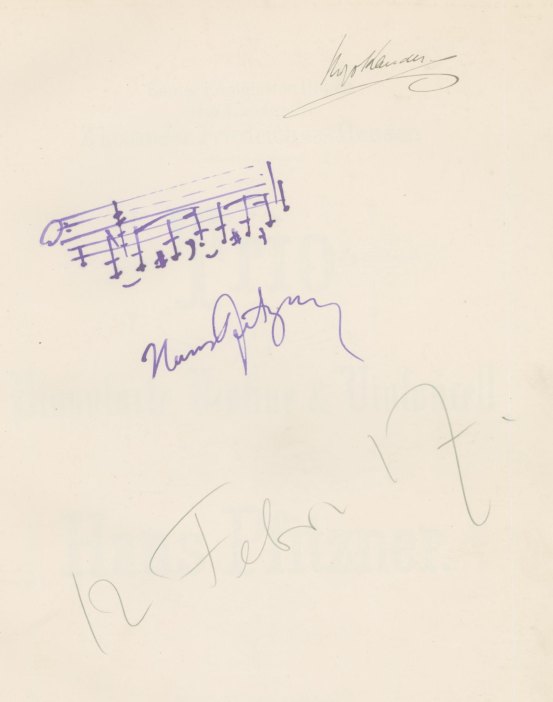 PFITZER-SIGNED TRIO WITH AMQ
Pfitzner, Hans (1869-1949)
Trio for Violin, Cello and Piano, Op. 8
 Signed Hans Pfitzner with AMQ. Also signed Hugo Kauder. Simrock: Berlin, 1898. Pl.n: 10999.

first edition

. Quarto. 67 pp. [piano] + 15 pp. [violin] + 15 pp. [cello]. Green cloth. Piano part bound; string parts loose and inserted in a matching green flap on inside of back board. In very good condition. Boards with a little wear.
A first-edition copy of one of Pfitzner's earliest-published works, signed by him in purple ink on the front end-paper with a quotation of the cello part's first bar.
Austrian composer Hugo Kauder has signed above Pfitzner; penciled below is the date 12 Febr. 17. Although the meaning of the date is unclear, it is possible that Kauder performed the trio then, as he was an active violinist and violist throughout the 1910s.
Although Pfitzner gained his lasting reputation as an opera and theater composer in the early 1900s, he had composed a large body of chamber music and songs throughout the 1880s and 1890s. He wrote this trio in 1896.
SSC-07596
$400