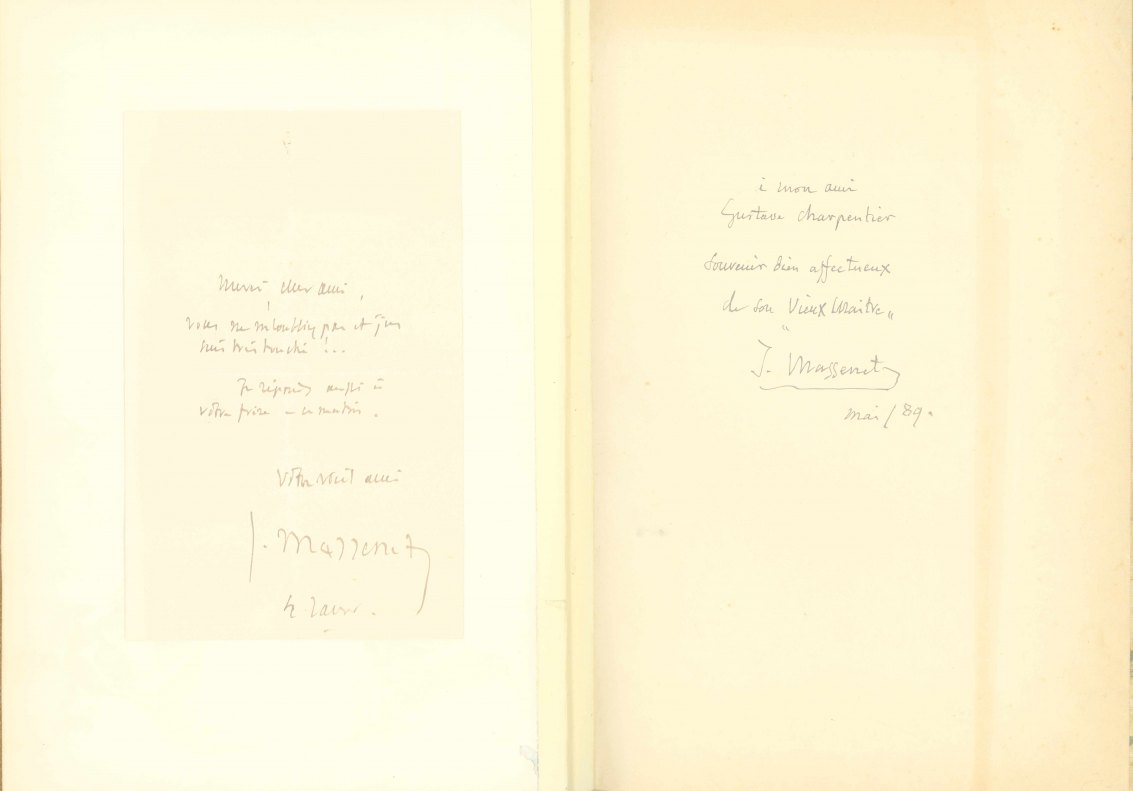 Enlarge Image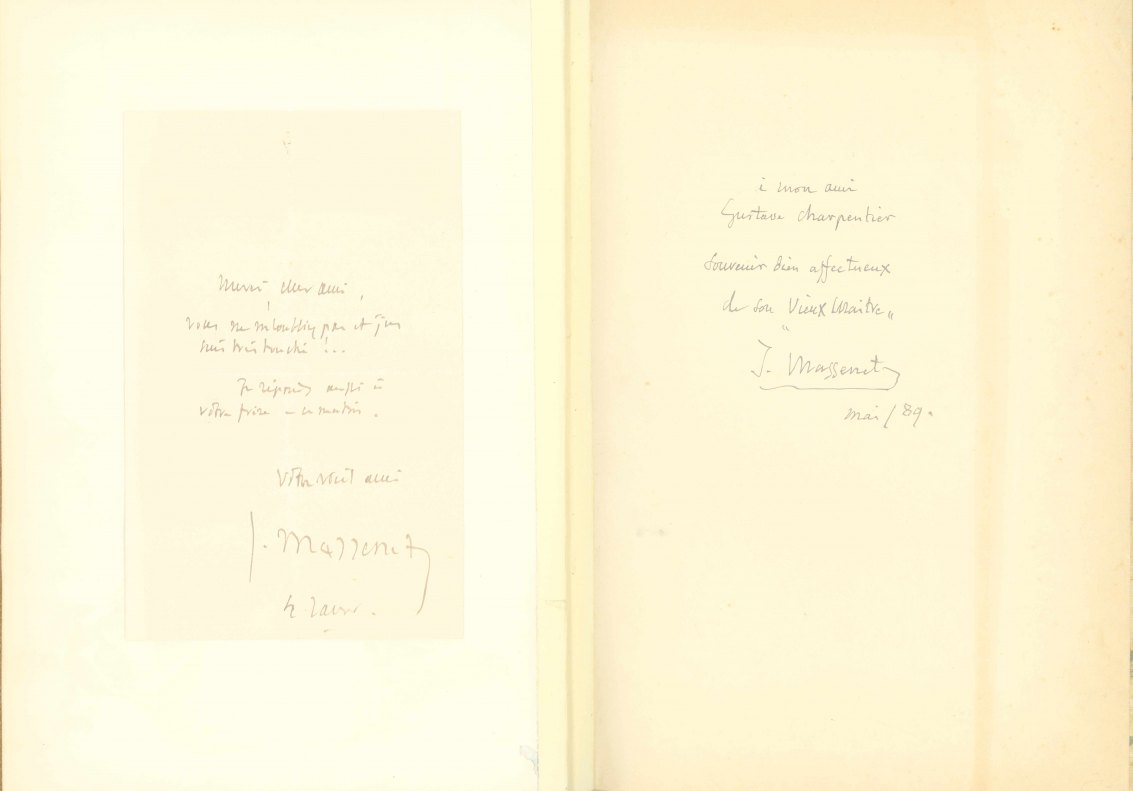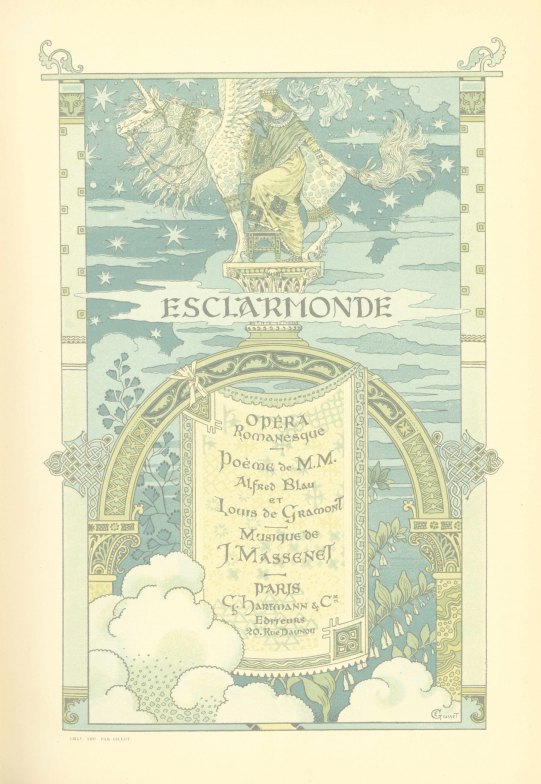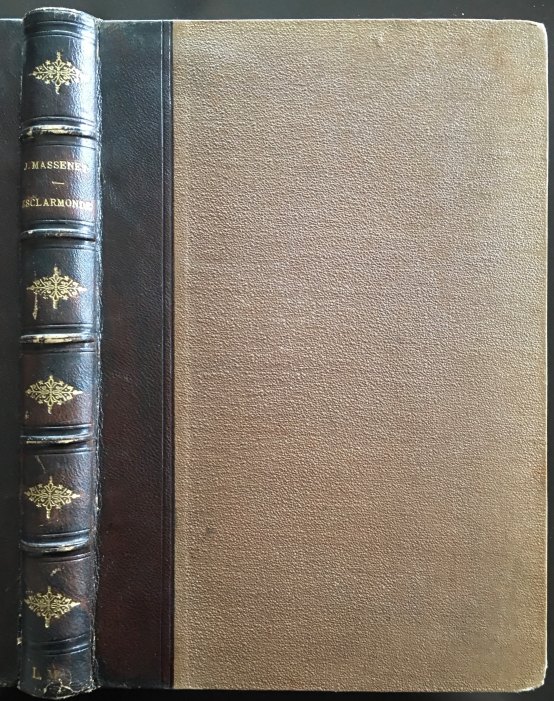 Massenet, Jules (1842-1912)
Esclarmonde. [Vocal score] + Autograph Signed Letter
G. Hartmann & Cie.: Paris, [c 1889]. Pl.n: G. H. et Cie. 1921.

first edition

of piano-vocal score. Small quarto. 306 pp. With original front wrapper bound in. Quarter-bound brown leather with brown pebbled buckram boards. Raised bands and gilt label and decoration at spine. Inscription page a bit browned at side (not affecting). ALS laid down opposite inscription in good condition. Light transfer to some music. A very good copy.
Inscribed to Charpentier soon after the premiere and including an ALS saying he is touched to be remembered by his fellow composer.
Inscribed on the first blank in the month of the opera's premiere by Massenet to his former pupil and fellow French composer Gustave Charpentier: à mon ami Gustave Charpentier | Souvenir bien affectueux | de son "Vieux Maître" | J. Massenet | mai /89.
Laid down opposite the inscription is a Massenet ALS which reads: Merci cher ami | Vous ne m'oubliez pas et j'en | suis tres touche!...| Je réponds aussi à | votre prière - ce matin. | Votre vieux ami | J. Massenet | 4 janv.
This first-edition piano-vocal score was likely published the same year as the opera's premiere (publication date assumed to be 1889 by Grove Dictionary and WorldCat). (When or if a full orchestral score was ever published is unclear; the Bibliothèque National owns two copies of full score proofs with autograph corrections but does not seem to own a published version of it.)
Charpentier entered Massenet's composition class at the Paris Conservatoire in 1884. The younger composer credited the elder with helping him to understand, and above all love, music. This inscription dates to only shortly after their studies together and to the year before Charpentier completed his most well-known opera, Louise.
SSC-06083
$1,850