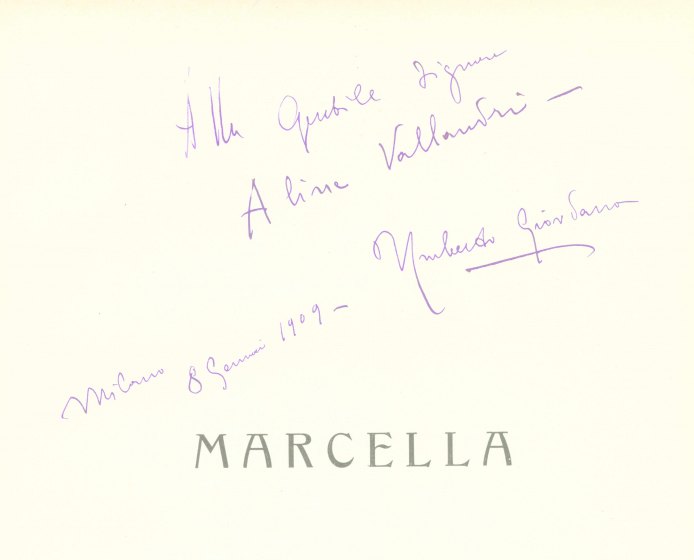 Enlarge Image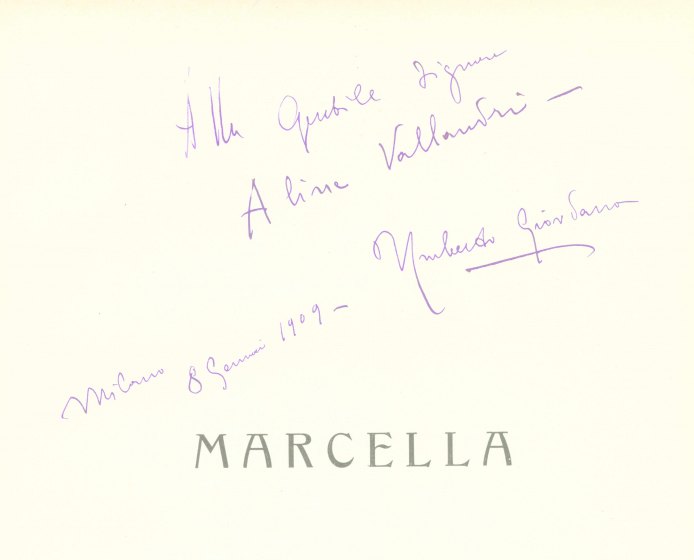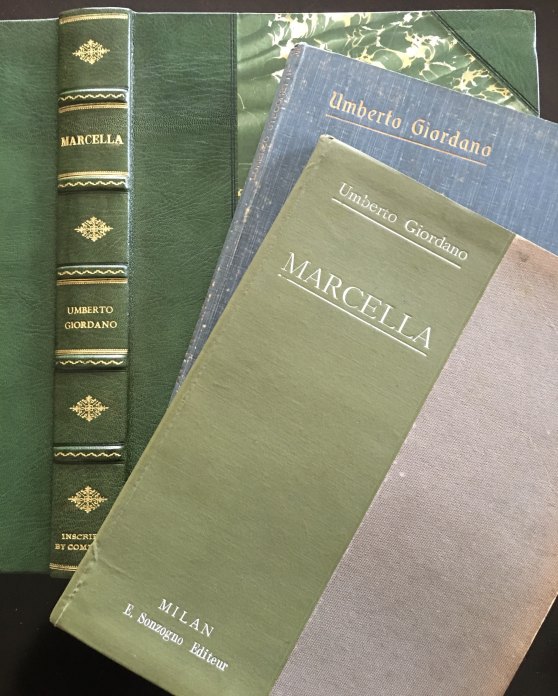 Giordano, Umberto (1867-1948)
Marcella. [Vocal score; French language]
Edoardo Sonzogno: Milan, 1907. Pl.n: E 1475 S.

first edition

of French-language piano-vocal. Quarto. 110 pp. + 8 pp. Thin green and brown buckram boards. In an elegant half-green leather box with marbled boards and raised bands, gilt label, and gilt tooling at spine. Front cover of score a bit stained with bumped corners; internally clean and good.
Inscribed, signed, and dated by the Italian composer on the half-title page to the French soprano Aline Vallandri:
Alla gentile signora | Aline Vallandri - | Umberto Giordano | Milano 8 Gennaio 1909 -
.
Sold together in the same box with:
Giordano, Umberto. Marcella. [Vocal score; Italian language]. Edoardo Sonzogno: Milan, 1907. Pl.n.: E 1405 S. FIRST EDITION of piano-vocal score. 144 pp. + 9 pp. [of transposed mezzo part; paginated 15-17; 1-5].
Both of these first-edition piano-vocal scores were published in 1903, the same year as the opera's premiere. It does not appear that a full orchestral score was ever published.
Aline Vallandri (1878-1952) was a fixture at the Paris Opéra Comique for nearly thirty years. Although she was praised for her interpretations of Massenet, Lalo, and Verdi, she was just as well known for her luxuriant floor-length hair. She credited its beauty to a "special lotion" gifted to her by a nun, the recipe for which she refused to share with the public.
SSC-06037
$650