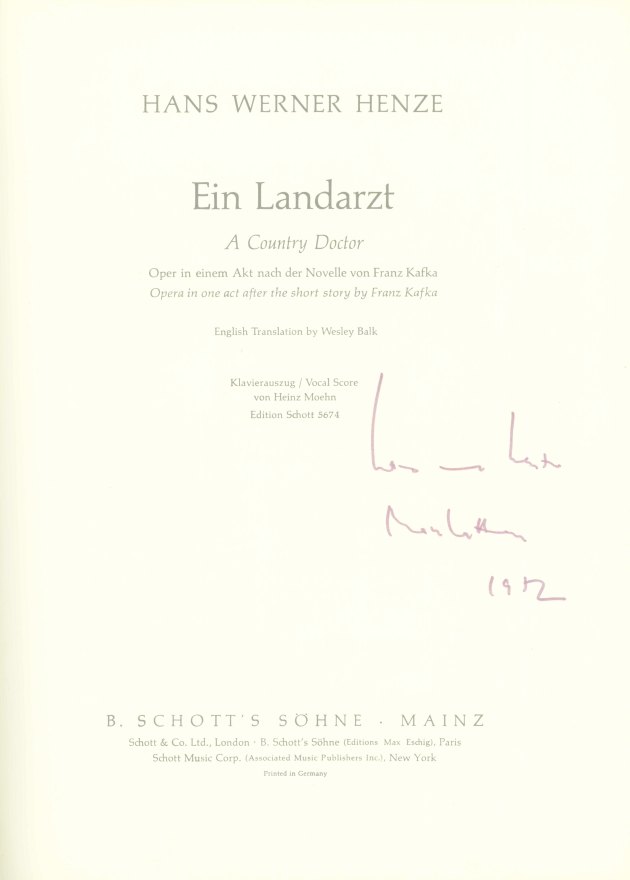 Click Image to Zoom
Enlarge Image
Henze, Hans Werner (1926-2012)
Ein Landarzt. A Country Doctor. Klavierauszug.
B. Schott's Söhne: Mainz, [1965]. A first-edition score. 63 pp. Paper wraps. Fine condition (wraps very slightly toned at edges; front with unassuming price stamp at upper-right corner).
A piano-vocal score of Henze's opera which is based on Kafka's work of the same name and for which Henze also wrote the libretto. With German and English lyrics, signed and dated by the noted German composer on the title page.
The original version of Ein Landarzt was composed specifically for radio performance in 1951 and in 1964, Henze reworked it as a vehicle for Dietrich Fischer-Dieskau. Publication date of this volume as per WorldCat.
SSC-05711
$170