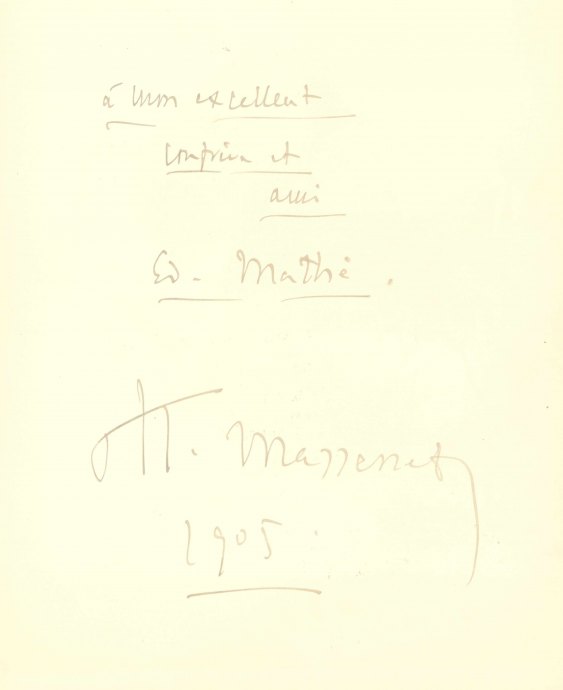 Enlarge Image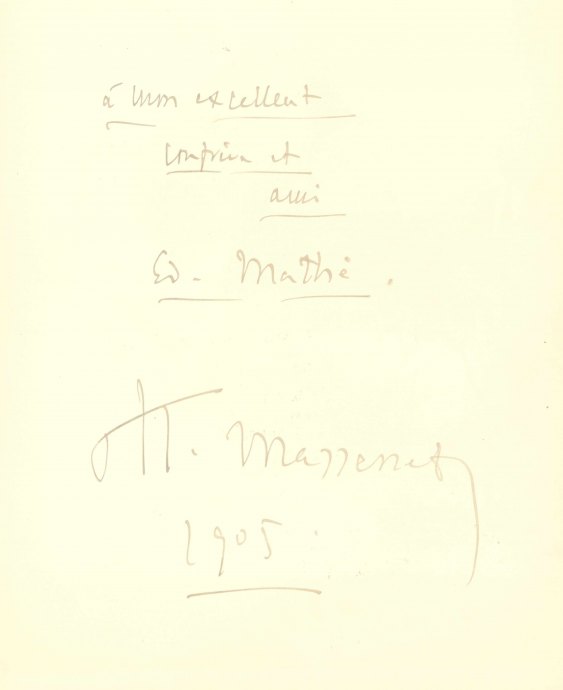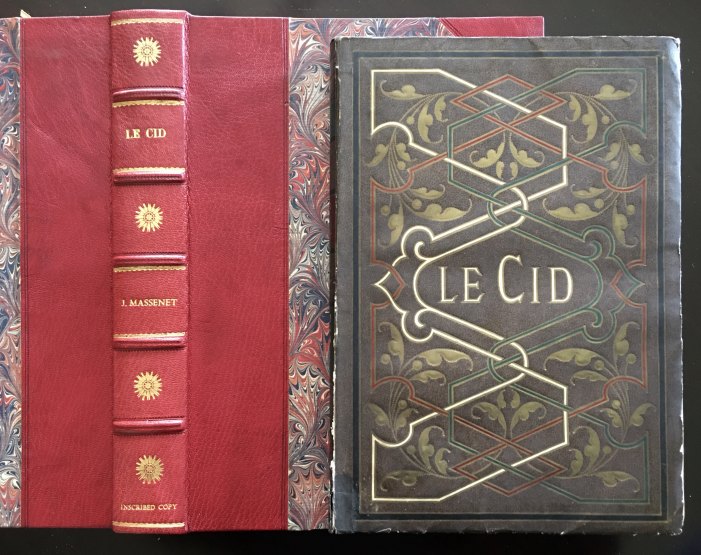 Massenet, Jules (1842-1912)
Le Cid. [Vocal score]
Heugel & Cie.: Paris, [c 1893]. Pl.n: H. et Cie. 7747 + 9391 & G. H. 1571. Likely second edition. Small quarto. 355 pp. Original decorative wraps. In an elegant half-bound red leather box with marbled boards and raised bands, gilt label, and gilt decorations at spine. A clean copy in very good condition. Wraps a little worn at edges and almost fully detached.
Inscribed and signed by the French composer on the first blank:
á mon excellent | confère et ami | Ed. Mathé | Jl. Massenet | 1905.
The inscription is to French silent film actor Édouard Mathé (1886-1934), who starred in some 51 films in the course of his rather short career.
This volume contains three different plate numbers: H. et Cie. 7747 and H. et Cie. 9391 (both of which belong to Heugel & Cie., and help approximate a publication date), and G. H. 1571 (which belongs to G. Hartmann). From 1870 to 1891, Hartmann was Massenet's exclusive publisher, but bankruptcy forced him to sell his catalogue to Heugel in 1891. Most of the music in this edition is stamped with Hartmann's plate number, suggesting it uses almost entirely plates made for the first (vocal score) edition of 1885. (The colored title page, cast list, scene list, and pages 1 + 145-176 all bear Heugel plate numbers, or no plate number at all.)
SSC-01750
$1,650