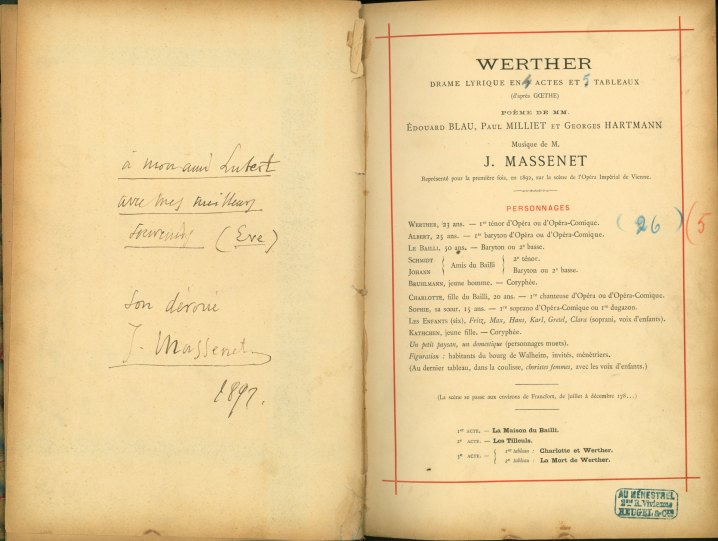 Enlarge Image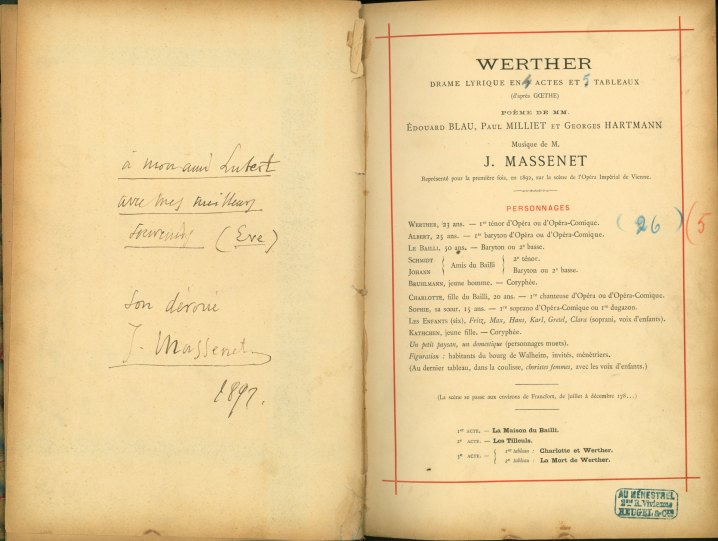 Massenet, Jules (1842-1912)
Werther - Drame Lyrique en Quatre Actes et Cinq Tablaux d'Après Goethe. Piano-Vocal Score
Poème de MM. Edouard Blau. Paul Milliet et Georges Hartmann. Heugel: Paris, 1892.

first edition

. Quarto. 229 pp. Half-leather in green morocco. Spine has raised bands, gilt title and armorial decorations. Spine edges rubbed, page edges slightly yellowed. Title page slightly torn at top. Some markings in blue and red crayon, mainly underlinings and cuts, otherwise very good condition.
Signed and inscribed by the composer on blank opposite title page: á mon ami Lubert / avec mes meilleurs / souvenirs (Eve) / son dévoué J. Massenet / 1897.
Werther
was the first of Massenet's operas to be performed at the Metropolitan Opera. It reached the Met two years after its 1892 world premiere, and it continues to hold the stage there.
Albert Lubert was a French tenor who first appeared at the Met as Don José in a production of Carmen in 1895. He also appeared in the Met performance of Massenet's La Navarraise.
SSC-01735
$1,500