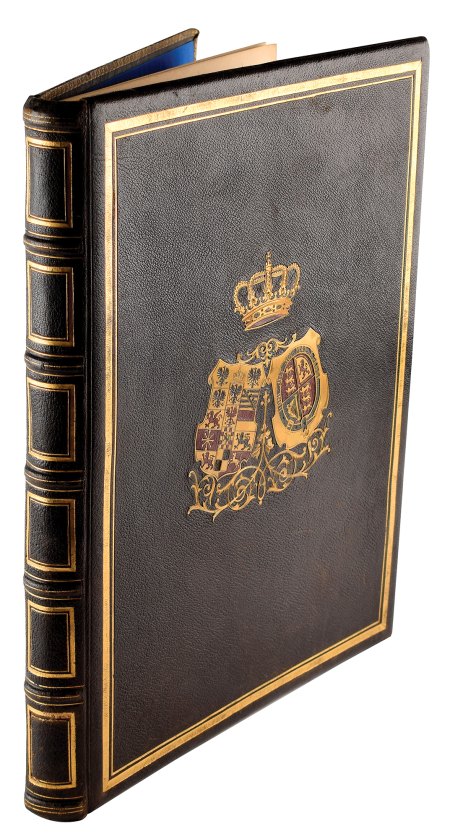 Enlarge Image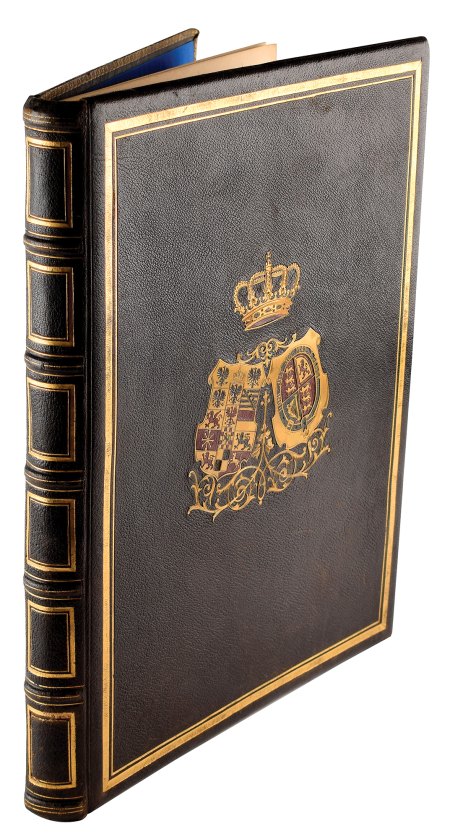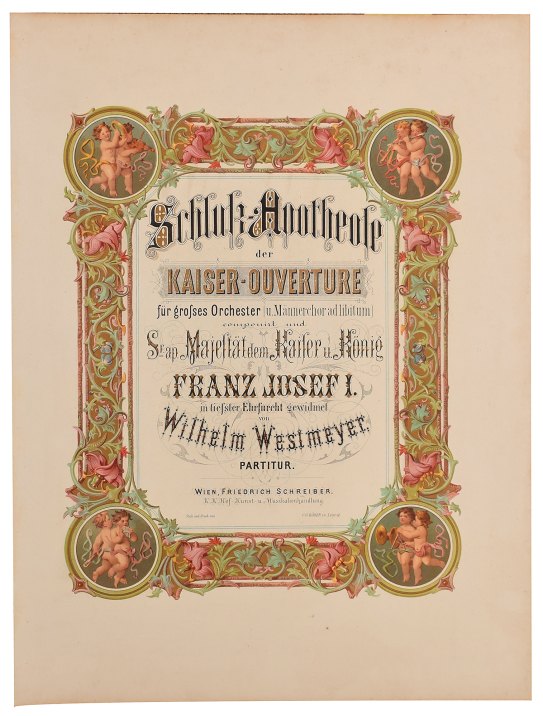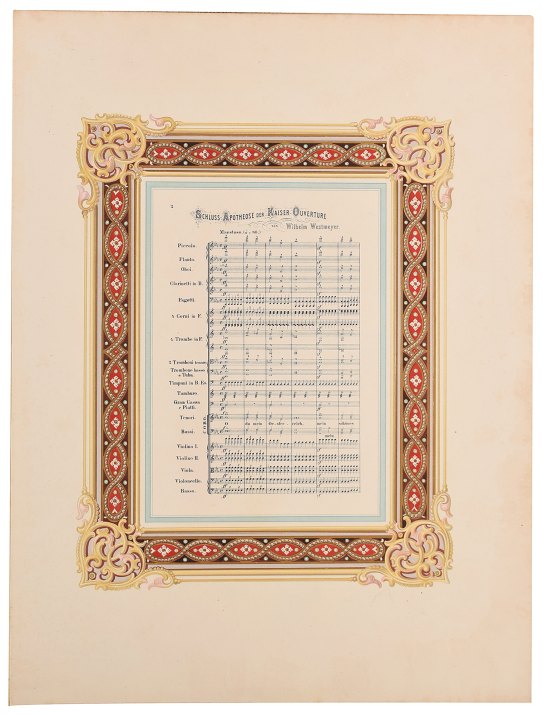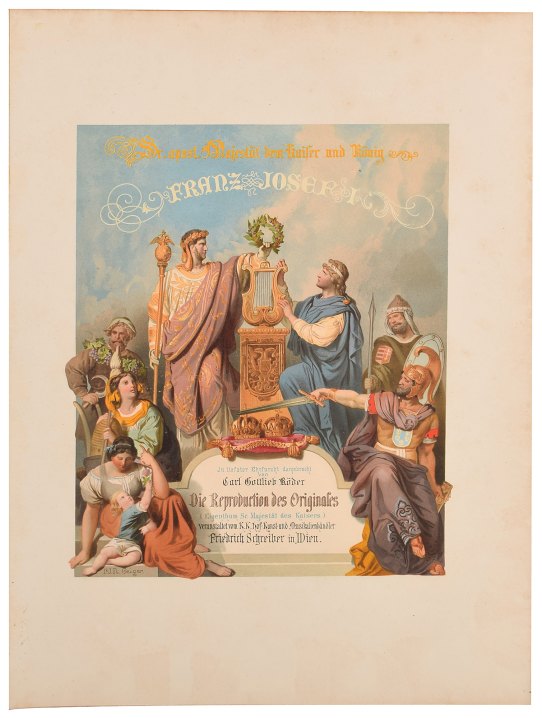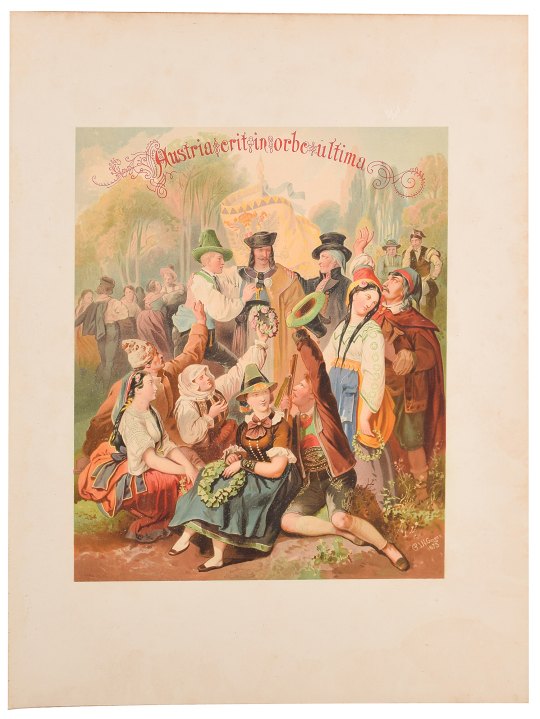 VIENNESE ROYAL FOLIO
Westmeyer, Wilhelm (1829-1880)
Schluss Apotheose der Kaiser
Friedrich Schreiber: Vienna, 1873. Folio (14" x 17.5"). Chromolithographic title page, 3 chromolithographic illustration plates of costumes and landscapes, and 14 pages of full-score music, each with decorative chromolithographs. Full leather with colored embossed crest and gold tooling. Spine with raised bands surround in gold. All edges gilt. Blue silk end papers and gilt ornamental inner dentelle. Binding designed by the Viennese bookbinder Franz Felix Rosenberg. Excellent condition.
Royal folio and chromolithographic tour de force.
This amazing, handsome volume contains the full score of Wilhelm Westmeyer's Schluss Apotheose der Kaiser, a march written to honor Kaiser William I, who had ascended in 1871, when Germany was united with the Kingdom of Prussia to create the German Empire. William I was the Holy Roman Emperor and the Austro-Hungarian Emperor and King. This march was played by military bands on the occasion of his birthday. It was decided to issue a very few copies in deluxe format, to be given as gifts by the Emperor to some dignitaries of the highest order. Each copy is unique, therefore, with a custom binding by the Viennese bookbinder Franz Felix Rosenberg, who incorporated the insignia of the recipients into the binding.
This particular copy has two side-by-side escutcheons on the cover. The one on the left features the Middles Arms of Prussia, representing the Kingdom of Prussia, Mark Brandenburg, the Duchy of Silesia, Grand Duchy of Lower Rhine, Grand Duchy of Poznan, Duchy of Saxony, Duchy of Luneburg, Burgraviate of Nurenberg, the coat of arms of the Hohenzollern/County of Zollern, the Duchies of Holstein, Schleswig, and Lauenburg, the Landgraviate of Hesse, the Principality of Nassau, and the rule of Frankfurt. The escutcheon on the right features the Royal Coat of Arms of the United Kingdom (English version) surmounted by an imperial crown.
As this book was created in 1873, we believe there were only two people to whom it could have been presented. The middle arms of Prussia could refer to the Crown Prince Frederick, son of Wilhelm and husband to Crown Princess Victoria (the daughter of Queen Victoria of England, hence the Royal Arms of England). Their son was Kaiser Wilhelm II, so it is also possible that this book was gifted to him or another of their children. The Kaiser Overture is still performed by the military bands on the occasion of the Kaiser's birthday. Westmeyer is the author of two operas, Amanda and Der Wald bei Hermannstadt as well as symphonies, songs, and quartets.
The German composer and pianist Wilhelm Westmayer wrote church music and operas, military music, children's songs and three operas. He studied with both Moritz Hauptmann and Ignaz Moscheles in Leipzig prior to moving to Vienna in 1869. Austria honored Wilhelm Westmeyer in 1867 with the Franz Joseph Order , presented by Emperor Franz Joseph I.
MUS-15422
$2,800