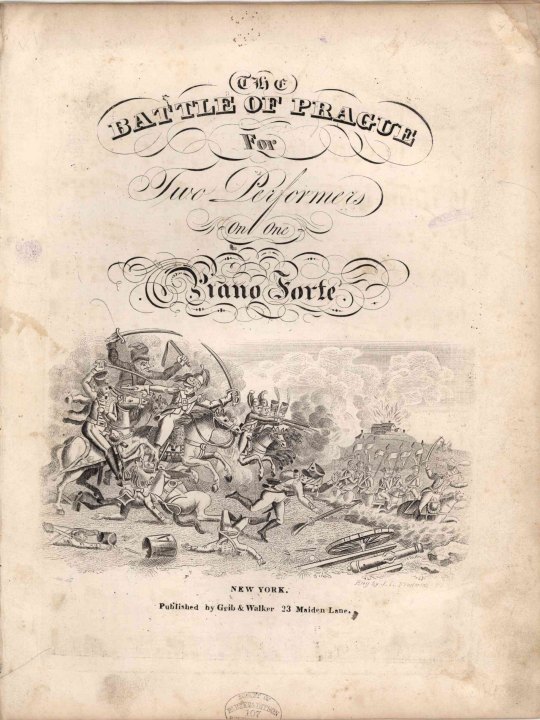 Click Image to Zoom
Enlarge Image
GEIB - GROUP OF SCORES FROM NEW YORK PUBLISHER
Sixteen piano and vocal scores.
Geib & Co.; J. A. & W. Geib; Geib & Walker: New York, c 1817 - 1830s. All engraved, quarto, and disbound. Group in good condition overall. Light soiling and marginal wear typical of age. Some penciled performance markings (mostly fingerings) and the occasional dealer stamp. Additional notes below.
A group of
sixteen early piano and vocal scores from the Geib firm
, which operated in New York City for much of the nineteenth century. The house was established in 1814 as an offshoot of Johann Geib's organ and piano manufacturing business and operated under the direction of various Geib family members through the 1870s. The editions in this group all date before 1843 (while the business was under the control of the founder, Johann Geib, or some assemblage of his sons) and include some publications from the firm's earliest years:
Piano. Twelve scores in total, including: two editions of Kotzwara's The Battle of Prague (one with a very attractive engraved battle scene on the cover); Steibelt's Storm Rondo (with an attractive engraved stormy scene on the cover); a sonata by Haydn; an arrangement of the overture to Kreutzer's Lodoiska; three arrangements of music by Gelinek, Braham, and Corri; a copy each of The Copenhagen Waltz and Scotts! Wha Hae Wi' Wallace Bled; and two early publications from the firm's first decade: "The Blue Bell of Scotland", arranged by Adam Geib (c. 1817), and "The Marquis de La Fayette's Grand March" (c. 1824).
Also included with the piano scores is the Marseilles Hymn by Geore Geib, published by Bourne in New York, c. 1830.
Vocal
. Four scores in total, all by English or Irish composers, including: "Come Over the Sea" by John Stevenson; "Oh! Remember the Time", a Spanish air with words adapted by Thomas Moore; "My Life I Love You", by Isaac Nathan with a text by Byron; and a duet entitled "When they Bosom Heaves the Sigh" by Braham.
Additional notes on condition: Corri arrangement quite rumpled at margins with chips at bottom; Moore's "Oh! Remember the Time" with detached pages and closely trimmed margins, affecting staves but not notes; Nathan's "My Life I Love You" with small plastic tag repair at right margin of cover.
MUS-15309
$800