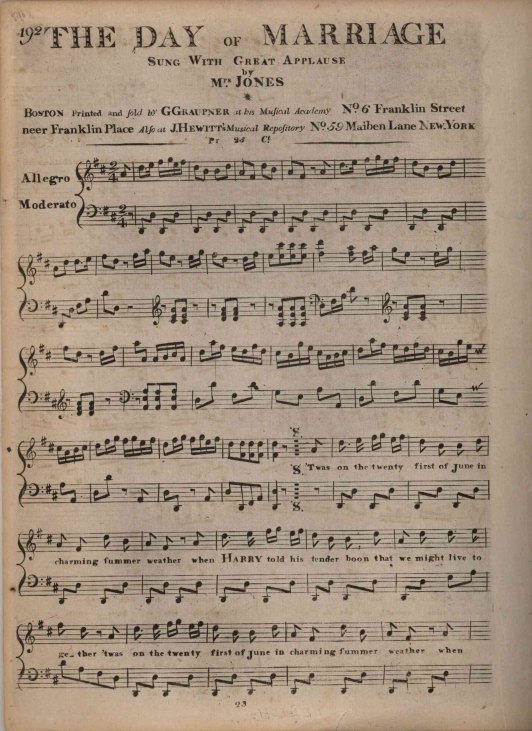 Click Image to Zoom
Enlarge Image
GRAUPNER - SCORES FROM EARLY BOSTON PUBLISHER
Graupner: Boston, early 19th century. Total of 40 scores, all quarto and engraved, most disbound. In very good condition on the whole with issues typical of age: marginal chips/tears, occasional penciled performance markings (especially piano fingerings), detaching or fully detached pages, some transfer and toning. Additional notes on more significant defects below.
Piano and vocal music published by Gottlieb Graupner, the most important music publisher in Boston at the beginning of the nineteenth century.
Almost all of these scores bear Graupner's No. 6 Franklin St. address (the first of his two shop locations). The group is comprised of three categories:
PIANO MUSIC - Sonatas, Arrangements, Variations, Incidental. Nine scores, including: an arrangement of a Concertante by Pleyel; an arrangement from Handel's Water Music; two waltzes by Mozart and one by Clementi; three sonatas by Valentino Nicolai; a set of variations entitled Rousseau's Dream by J. B. Cramer; an unattributed set of variations entitled The Lee Rigg; The Cottage Rondo by Matthais von Holst (great-grandfather of Gustav Holst); and a single page containing two short pieces entitled March in Pizzarro (evidently referring to the drama by Kotzebue, not Beethoven's opera) and College Hornpipe.
Additional notes on condition: Pleyel's Concertante and Nicolai's Sonatas with detached and torn title pages (affecting music on verso). The Prussian March torn with substantial creasing.
PIANO MUSIC - National or Boston-related Themes and Marches. Six scores, including: two waltzes named Swiss and Copenhagen; two marches entitled Salem Cadet's March and Governor Knight's March; a Prussian March with trio; and a single page containing two marches entitled Buonapart's Grand March and Washington's Assembly.
SONGS. Twenty-five scores. All but two for solo vocalist and piano (the exceptions being one vocal duet and one chorus with soloist). These include popular songs by English composers James Hook, J. J. Burrowes, Henry Bishop, Thomas Thompson, John Bray, John Whitaker, and William Horsley; unattributed folk tunes of Scottish and Irish origin; a crisp copy of "The Last Rose of Summer"; songs made locally popular in Boston through theater and concert performances (and so noted beneath their titles); and songs translated from German or French originals.
Gottlieb Graupner began his career as an oboist in the Hannover military band before joining the orchestra that would premiere Haydn's symphonies in London 1791 and 1792. He immigrated to America by 1795 and quickly became a fixture of Boston's music scene. Graupner's store, which published, printed, and engraved sheet music and dealt in instruments, was the leading music business in Boston for the first three decades of the nineteenth century. He published the music of American and European composers and was responsible for some of the first musical instructional treatises produced in the United States. He was also the leader of the Boston Philharmonic Society and a charter member of the Handel and Haydn Society.
MUS-15308
$1,500