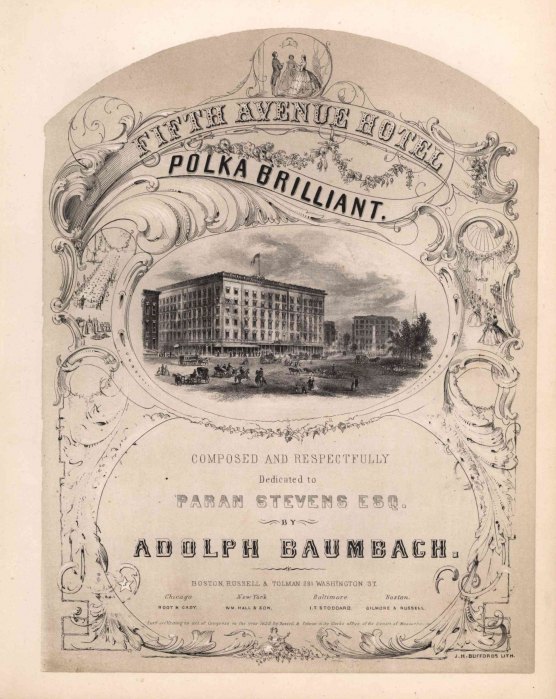 Click Image to Zoom
Enlarge Image
NEW YORK - FIFTH AVENUE HOTEL SHEET MUSIC
Baumbach, Adolph (c. 1830-1880)
Fifth Avenue Hotel Polka Brilliant
Russell & Tolman: Boston, 1858. Pl.n: 3734. Quarto. 7 pp. Disbound. In excellent condition with a clean, crisp cover. Some transfer to music.
A piece for piano written to mark the opening of the Fifth Avenue Hotel in New York City. The hotel is depicted on the cover with in a detailed and decorative lithograph by the noted lithograph J.H. Bufford. Scarce.
The Fifth Avenue Hotel opened in 1859 on the southwest corner of what is now Madison Square Park. Its distance from the city's downtown core, where most people lived and worked, caused many to predict its failure, but it quickly became a hub for the social, political, and cultural elite. The hotel was luxuriously outfitted and gratuitously staffed, attracting notable guests with advertisements of its opulent dining room, private bathrooms, and fireplaces in every room. It was also the first hotel to have elevators. Ten presidents and several members of the British royalty would stay at the Fifth Avenue Hotel before its closure in 1908, the Prince of Wales once remarking that the place was a larger and more handsome building than Buckingham Palace.
MUS-15303
$100