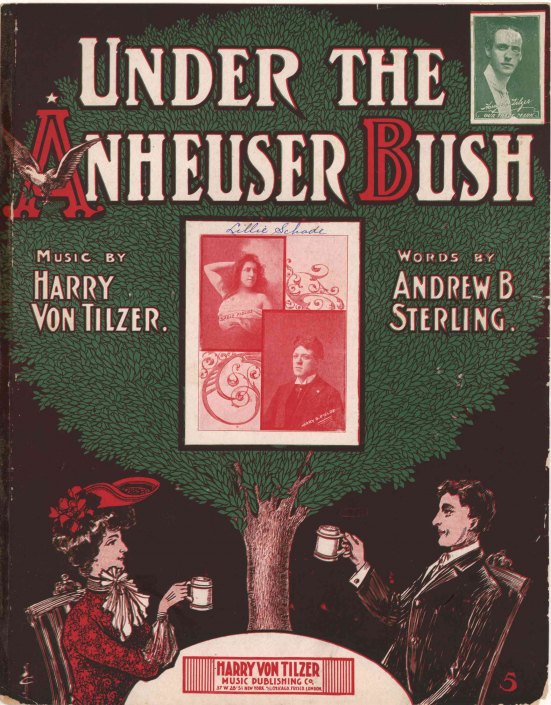 Click Image to Zoom
Enlarge Image
BEER HALL AND ALCOHOL-RELATED SHEET MUSIC
Four alcohol-related songs from the nineteenth and early twentieth centuries relating to beer and alcohol.
1870-1902. Large quarto. In very good condition overall. Minor defects noted below.
It might seem ironic that these songs were published just as the American temperance movement reached a critical mass, but German beer halls were hardly the target of temperance advocates -- in fact, beer halls were seen as a more wholesome alternative to the saloon. Well lit and spacious, the halls were centers for social mingling, entertainment and even family fun. The larger halls had dedicated areas for dining, games, concerts, and dancing. Lager beer, rather than hard liquor, was the choice drink.
The group of four nineteenth- and early-twentieth-century pieces of sheet music includes:
Two beer hall favorites by songwriter and music publisher Harry Von Tilzer, the second of which was commissioned by the beer company Anheuser-Busch in 1903:
"Down Where the Wurzburger Flows", by Vincant P. Bryan and Harry Von Tilzer. Harry Von Tilzer Music Publishing Co.: New York, 1902. 5 pp. Large quarto. Pages detached with some chips at right edge.
"Under the Anheuser Bush", by Andrew B. Sterling and Harry Von Tilzer. Harry Von Tilzer Music Publishing Co.: New York, 1903. 5 pp. Large Quarto. Tape at spine and a bit chipped at edges (not affecting). Small signature of former owner on cover.
A song in which a German soldier bemoans the loss of his girlfriend and his Schnapps:
"Corporeal Schnapps", by Henry C. Work. Root & Cady: Chicago, 1884. 5 pp. Disbound. Tear at bottom margin of all pages (affecting some marginal notes) and spotting throughout.
And a serio-comic song about the restorative powers of rock and rye, "the only cure that's sure":
"Rock & Rye", by Elmer Rapp. W. H. Ewald & Bro.: Jersey City, 1879. 5 pp. Large quarto. Engraved.
MUS-15299
$150