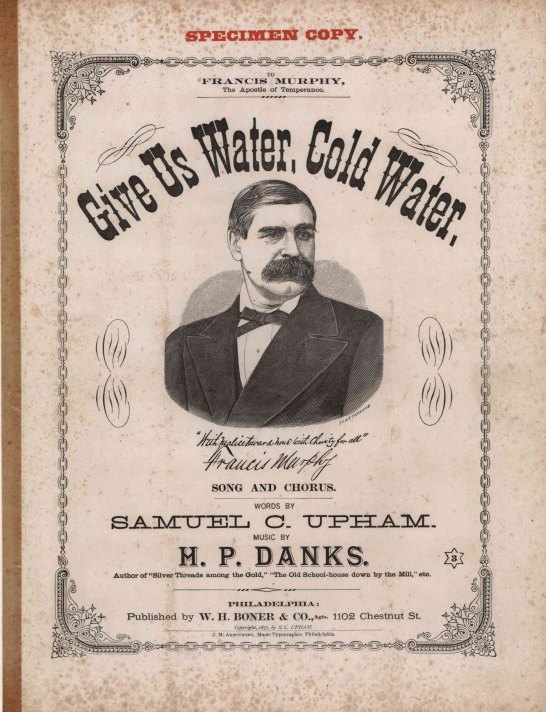 Click Image to Zoom
Enlarge Image
TEMPERANCE SHEET MUSIC
Group of Ten Pro-Temperance Songs and Piano Pieces
All large quarto. Group in quite good condition overall. Most songs with detached pages and taped spine. Occasional foxing, bleedthrough, and/or ink transfer typical of age, but a clean set on the whole. Additional notes below.
An amusing group of nineteenth-century American temperance songs and incidental piano music, listed below.
Historians divide the American temperance movement into three long waves: the first lasted from the end of the Revolutionary War (1783) through the onset of the Civil War (1861); the second from the early 1870s through the early 1890s; and the third from the mid-1890s through the end of prohibition in 1933. The music in this group dates from the first and second of these waves. Accordingly, many of the lyrics reflect the particular events and concerns of their publication dates. "Give Us Water, Cold Water", for instance, was published shortly after the National Woman's Christian Temperance Union began encouraging communities across the country to erect drinking fountains so that men would be less tempted to seek refreshment in bars. Likewise, "The Drunkard's Wife", published in 1850, derives from the massively popular pro-temperance play The Drunkard, which ran at Barnum's American Museum in New York City for over one hundred nights.
"Give Us Water, Cold Water", by Samuel C. Upham and H. P. Danks. W. H. Boner & Co: Philadelphia, 1877. Stamp on title page reads Specimen Copy.
"Temperance Marseillaise Hymn", by Minnie D. Bateham. S. Brainard's Sons: Cleveland, 1874. 5 pp. Replaces the text of the French national anthem.
"I'll Never Get Drunk Anymore", by Ned Harrigan and Dave Braham. White, Smith, & Company: Boston, 1874. 5 pp. Stain to right margin (not affecting).
"Dear Father Drink No More", by C. W. Ackerman. Oliver Ditson & Co.: Boston, 1847. 5 pp.
"Song of Deliverance", by J. Price Schell (who is billed on the title page as The Blind Advocate of Total Abstainence). No publishing information provided. 3 pp.
"Temperance Quick Step", by A. F. Knight. For piano solo. Henry Prentiss: Boston, 1841. 3 pp.
"A Little Bow of Blue", by E. Carswell and A. Lang. J. N. Stearns: New York, 1878. 5 pp.
"The Drunkard's Wife", by John Farrenberg. George Loder, arr. Firth, Pond & Co.: New York, 1850. 5 pp.
"Temperance Polka", by H. Cadmus. For piano solo. William A. Pond & Co.: New York, 1858. 5 pp.
"Ottawa Beer Song", E. L. Wheeler: Brooklyn, 1870. 5 pp. Large quarto. Pages detached with tape to spine on cover. (Ottawa beer was a type of non-alcoholic root beer).
Sold together with the cover of "The Total S'iety", by Henry Russell. Henry Prentiss: Boston, 1840. The illustrated cover of an early pro-temperance song.
MUS-15296
$450