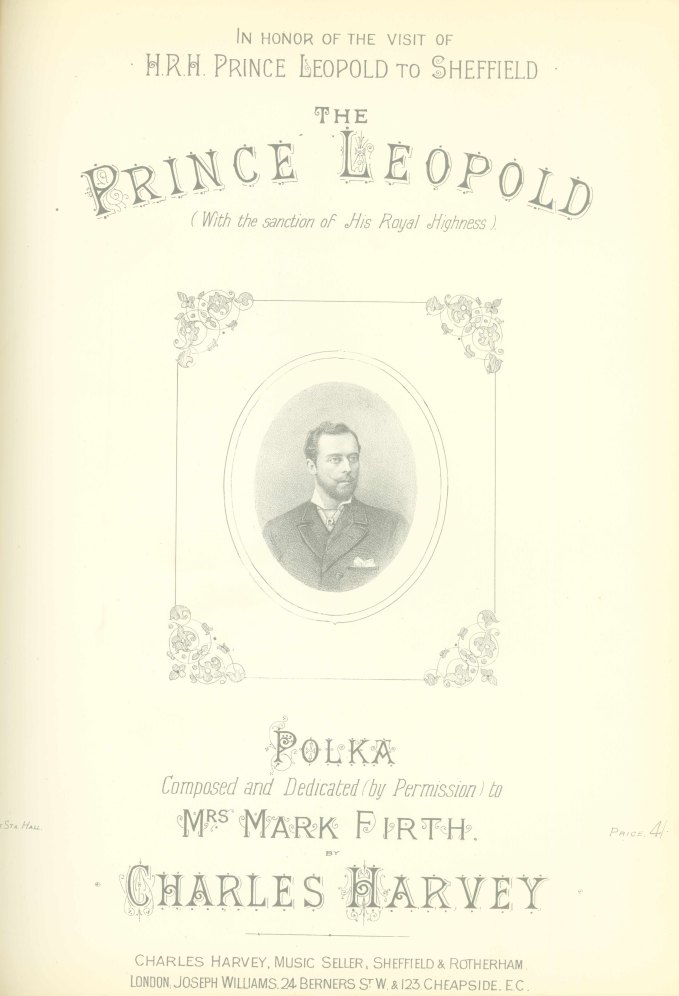 Click Image to Zoom
Enlarge Image
ROYAL SAMMELBAND - PERSONAL COPIES OF MUSIC DEDICATED TO THE DUKE AND DUCHESS OF ALBANY
Quarto. With several color title pages. Purple linen spine with leather label & plain brown boards. All edges gilt. Front cover blindstamped with a crowned letter A and Music Dedicated to H. R. H. The Duke and Duchess of Albany. Boards a bit worn. Internally in excellent condition.
A very attractive volume of 32 songs and incidental piano music dedicated to the Duke and Duchess of Albany by a host of composers, including but not limited to Arthur Sullivan, Berthold Tours, Louis von Esch, and several female composers.
The volume is compiled of the Duke and Duchess's personal copies. Several pieces are inscribed and signed by their composers: Ti saluto! by Mounsey Bartholomew; The Last Milestone by Henry Pontet; One Here, One Yonder by Annette Casson; and The Claremont and Claremont Valses by J.M. Falshaw (both Falshaw pieces inscribed without signature).
There are also manuscript copies of Gounod's Marche Nuptiale, which includes at the end God Save the Queen, and Theodor Adam's Man lebt nur einmal.
Finally, there are several songs to commemorate the passing of the Duke, who suffered an untimely death at age 30 in 1884: Where the Weary are at Rest, a Tribute to the Memory of H.R.H. Prince Leopold by John d'Esté; Lament, on the Death of His Royal Highness The Late Duke of Albany by Lillie Albrecht; and Not Dead but Sleeping by W. S. Bricknell.
Prince Leopold, Duke of Albany, was the eighth child and youngest son of Queen Victoria and Prince Albert. He married Princess Helena of Waldeck and Pyrmont in 1882, but their happy marriage was short-lived when he died of hemophilia just two years later.
MUS-15060
$400