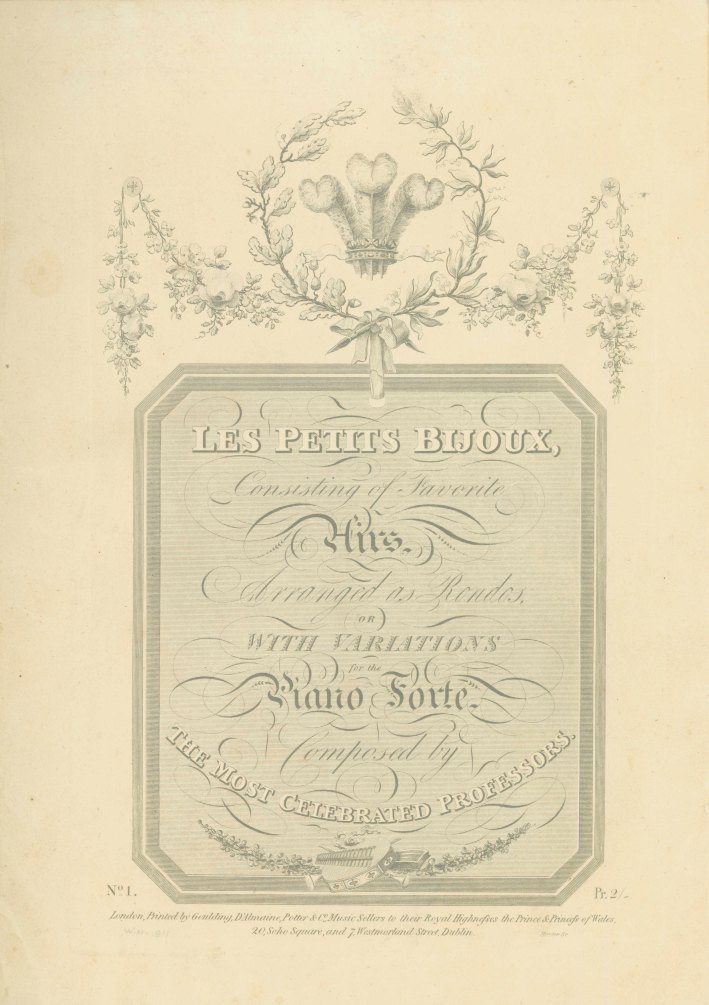 Click Image to Zoom
Enlarge Image
PIANO - LES PETITS BIJOUX
Les Petit Bijoux, Consisting of Favorite Airs, Arranged as Rondos, or With Variations, for the Piano Forte, Composed by The Most Celebrated Professors. Nos. 1-24.
Goulding, D'Almaine, Potter & Co.: London, [1810-1816].

first edition

. Engraved. Large quarto. Half-bound red leather with paper boards. Leather and boards heavily rubbed, but internally very clean and in excellent condition.
A beautiful and uncommonly clean collection of incidental piano music issued in installments between 1810 and 1816 by Goulding, D'Almaine, Potter, & Co. under the title
Les Petit Bijoux
. Each of the 24 installments (which we believe constitute the entire collection) is bound with its own attractive title page. (Those title pages for Nos. 3, 12, 20, and 24 are less decorative than the rest, but still seem to be first editions.)
Most of the composers represented in the collection are English and include Thomas Cooke, Joseph William Holder, John Davy, and Joseph Gelinek, among others.
MUS-15026
$350