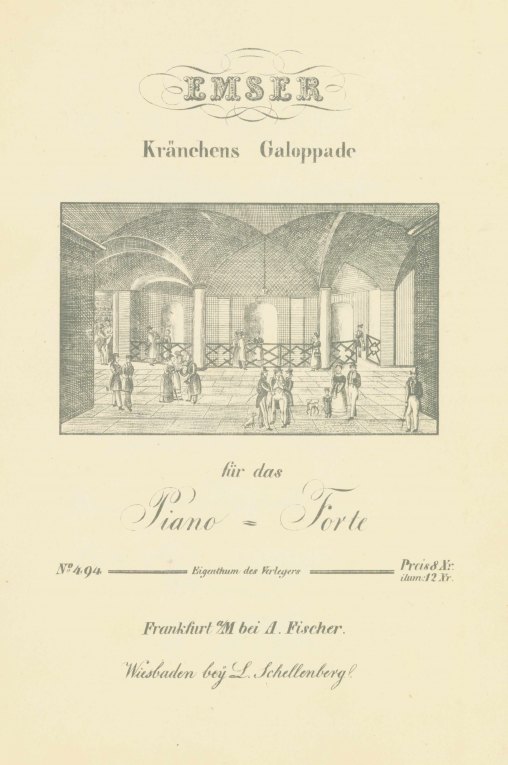 Click Image to Zoom
Enlarge Image
WALTZ - EARLY-NINETEENTH CENTURY GROUP
Group of early-nineteenth century waltzes.
A. Fischer: Frankfurt am Main, [c 1830, as per WorldCat]. Octavo. Three title pages with small vignettes relating to waltz titles. Crisp copies in very good condition. A little spotting throughout.
Four unattributed waltzes loosely tied together with a blue string. Three have titles based on Austrian landmarks:
Wiener Pracht-Waltzer über Flog mir zur schönen Kaiserstadt für Piano-Forte. 3 pp. Pl.n. 539.
Emser Kränchens Galoppade für das Piano-Forte. 3 pp. Pl.n. 494.
Favorit-Walzer aus der Opera Fra Diavolo oder das Gasthaus in Terracina für das Piano-Forte. 3 pp. Pl.n. 472.
Nassauer Kettenbrücken-Walzer für das Piano-Forte. 3 pp. Pl.n. 493.
A fifth unattributed waltz with vignette, not sewn with the rest and published by Schott, is also included: Vme Walse de favorite de Mayence pour le Pianoforte. No. 189. B. Schott: Mayence, [n/d]. 3 pp. Octavo. A little creasing at top corner left corner but otherwise fine.
MUS-14865
$400