Enlarge Image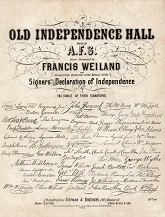 SIGNERS OF THE DECLARATION OF INDEPENDENCE
Weiland, Francis, and A. Fletcher Stayman
Old Independence Hall - Sheet Music.
Philadelphia, 1855. 5 pp. Overall very good and crisp condition except for slight browning on top and bottom edges, very slight foxing.
A rare piece of American sheet music showing facsimiles of the autographs of all the signers of the Declaration of Independence. Engraved.
MUS-10616
$150