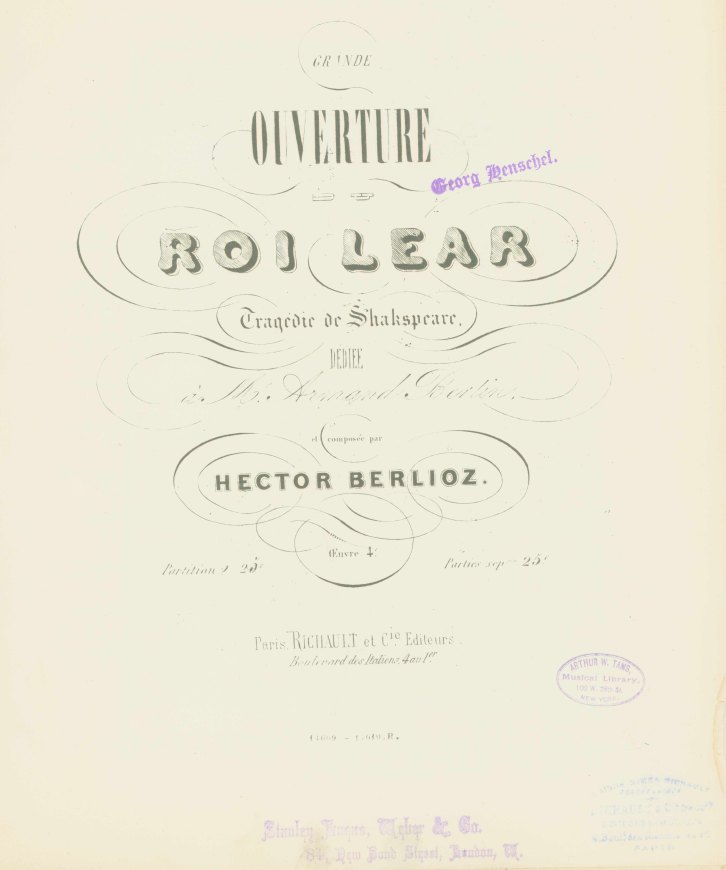 Click Image to Zoom
Enlarge Image
Berlioz, Hector (1803-1869)
King Lear Overture, Op. 4. / Roman Carnival Overture, Op. 9
Disbound, but still sewn together. Solid and crisp copies. Both title pages stamped "Georg Henschel" and "Arthur W. Tams. Musical Library." Expressive markings in colored pencil scattered throughout; occasional foxing. An attractive volume overall.
Grande Ouverture du Roi Lear: Tragedie de Shakspeare dediee à M. Armand Berlin. et composée par Hector Berlioz. Oeuvre 4e.
Richault: Paris, [after 1866, Hopkinson 24A(b)]. Plate no. 140009.R. Folio. 85 pp. Engraved. Large margin tear to p. 61 (not affecting music).
[Title page lacking] La Carnaval Romain Overture, Ouevre. 9.Brandus: Paris. Plate no. M.S.4019, [after 1846, Hopkinson 32 A (b), (c) or (d)]. 53 pp. Engraved.
Formerly in the library of the noted singer-conductor Georg Henschel, who was the first conductor of the Boston Symphony Orchestra.
MUS-10515
$150