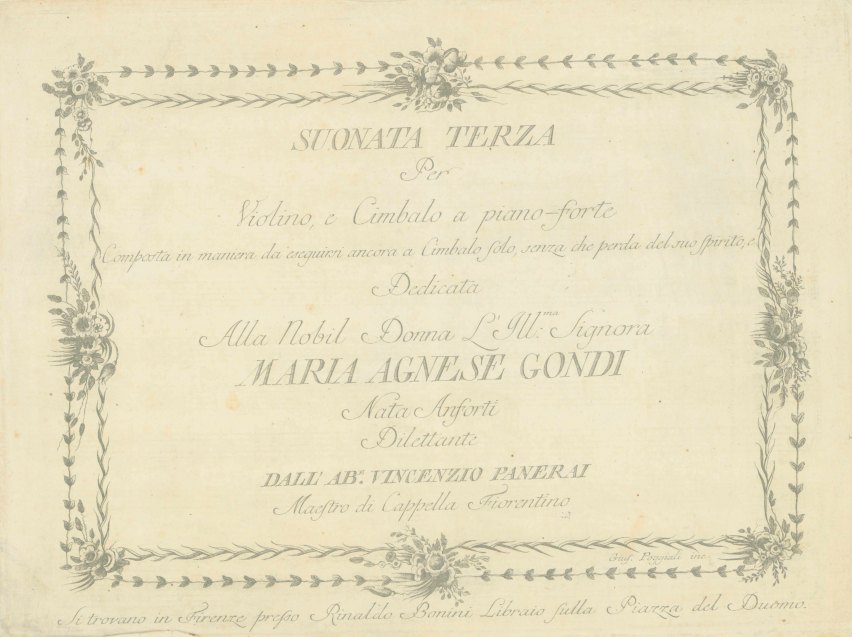 Click Image to Zoom
Enlarge Image
Panerai, Vincenzo (c. 1750-c. 1790)
Suonata Terza Per Violino e Cimbalo a piano-forte Composta in maniera da esequirsi ancora a Cimbalo Solo, senza che perda del suo Spiriot, e Dedicata Alla Nobil Donna L'Illma: Signora Maria Agnese Gondi Nata Anforti Dilettante Dall' Abe. Vincenzio Panerai
Rinaldo Bonini: Florence, [c 1770]. Oblong quarto. Paginated 9-14. Disbound and detached. A little dusty with slight wear to edges and stain at bottom edge of last page (not affecting). Otherwise in good condition.
Complete score for keyboard and violin.
Very little is known about Italian composer Vincenzo Panerai. He studied composition alongside Luigi Cherubini in Florence, and Cherubini is known to have praised the performance of Panerai's music in that city in the 1770s. A teacher and author of several didactic works, Panerai published one of the few fingering tables for flute that survives from Italy during his lifetime.
MUS-10177
$75