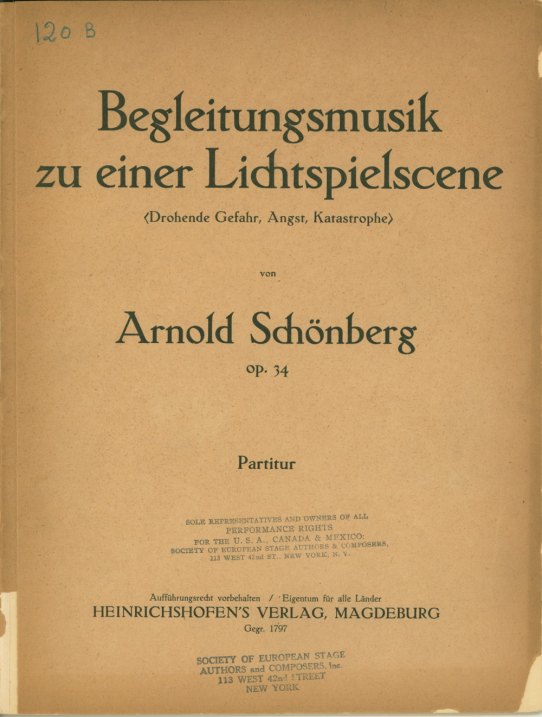 Click Image to Zoom
Enlarge Image
Schoenberg, Arnold (1874-1951)
Begleitungsmusik zu einer Lichtspielscene, Op. 34. Partitur
Heinrichshofen: Magdeburg, [1930, as per WorldCat]. Pl.n: Gegr. 1797. Apparent

first edition

. 46 pp. Stamped on front cover: "Society of European Stage/ Authors and Composers, Inc./113 West 42nd. St./ New York. Paper wraps. Covers detached and chipped along edges; inside clean and fine.
Accompaniment to a Film Scene (Begleitmusik zu einer Lichtspielscene) is a short 10-minute work written in 1930, using Schoenberg's by then entrenched 12-tone technique. In 1929 Schoenberg was commissioned by the Heinrichshofen Verlag in Magdeburg to write film music but it appears that Schoenberg never complied with the instructions and the work remains music for an imaginary (silent) film sequence, although one using the suggested key words "Threatening Danger, Fear, Catastrophe," which the composer uses as a subtitle. Although no film ever transpired, the work was premiered in 1930 in Berlin under the direction of Otto Klemperer and later received its American premiere at the Hollywood Bowl, under the direction of Nicolas Slonimsky.
MUS-09844
$125