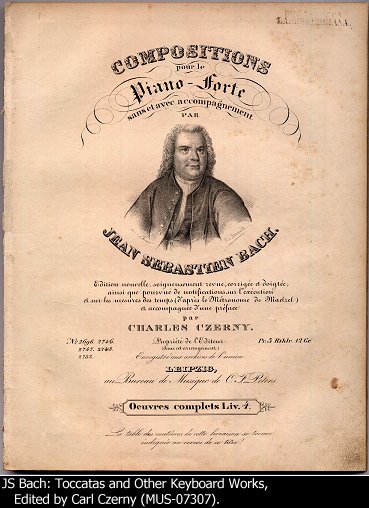 Click Image to Zoom
Enlarge Image
Bach, Johann Sebastian (1685-1750)
Keyboard Works: Chromatic Fantasy and Fugue, Various Fugues, Toccatas and Other Keyboard Works, "Compositions pour le Piano-Forte sans et avec accompagnement par Jean Sebastien Bach, Edition nouvelle...par Charles Czerny...Oeuvres complets Liv. 4"
Bureau de Musique de C.F. Peters: Leipzig, [1837]. Pl.n: 2696. Folio. 99 pp. Disbound. Pencil marks throughout, foxing throughout, otherwise very good.
Title page portrait of Bach by Kneisel. Stamped "Biblioteca Landsbergian."
Contents:
-Fantasie Chromatique, BWV 903
-Fugue Am, BWV 944, 2
-Fugue Em, BWV 914, 4
-Prélude et Fuge sur le nom de Bach, BWV 898
-Toccata et Fugue Fis m BWV 910
-Toccata et Fugue Cm, BWV 911
- Fantasie et Fugue Am, BWV 904
- Fantasie et Fugue B, BWV 907
- Fantasie et Fugue D, BWV 908
- Capriccio et Fugue sur le départ d'un ami, BWV 992
- Toccata et Fugue, Dm, BWV 913
- Partita 6, BWV 830
MUS-07307
$350