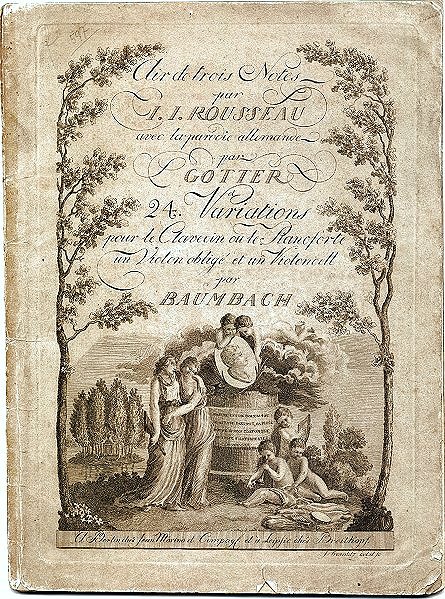 Click Image to Zoom
Enlarge Image
Baumbach, Friedrich (1753-1813)
Air de trois Notes par I.I. Rousseau, avec la parodie allemande par Gotter, et 24. Variations pour le Clavecin ou le Pianoforte un Violon obligé et un Violoncello
Jean Marino et Cie.: Berlin, [1792]. Octavo. 12 + 6 + 3 pp. Wrappers. Some shelf wear on title page, otherwise very good.
Piano score and parts. Beautifully engraved title page vignette, including a quotation from Montagne. The Rousseau theme is composed of the notes G, A and B. The air's German translation is provided along with the original French. A rare complete set.
Baumbach was a composer and musician who was active in Hamburg in the 1780s and travelled to St. Petersburg, Riga and Moscow before settling in Leipzig in 1790. He composed chamber music and vocal and instrumental music for amateurs.
MUS-06533
$275