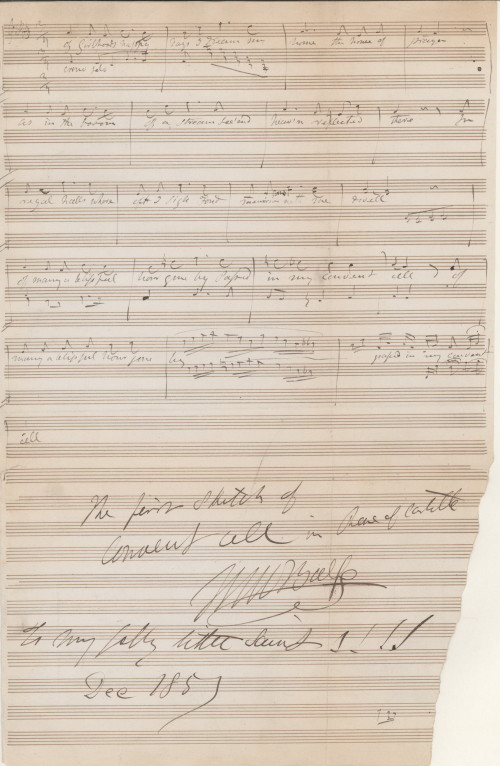 Click Image to Zoom
Enlarge Image
Balfe, Michael W. (1808-1870)
Autograph Manuscript Sketch from the Opera "Rose of Castille" Signed
"MW Balfe". Inscribed to "my pretty little aunt!!!!". Dec. 1851. Large manuscript paper (c 14.25" h x 9" w). 1 p. Overall very good condition, save for one torn corner at lower right not affecting text (creases from folds, two very slight tears on bottom edge and one on left edge).
The composer has elegantly penned 18 bars of music with lyrics and labeled it underneath as being "the first sketch of Convent Cell in Rose of Castille". The sketch is from the second act of the opera and is an aria sung by the lead, Queen Elvira, and is also known as "Of girlhood's happy days I dream." Balfe has dated the sketch 1851, which is a full 6 years prior to the premiere of the opera which was given on 29 October 1857, at the Lyceum Theatre, London.
The influential Irish composer and singer, Michael W. Balfe, was certainly a most successful opera composer in the 19th century, now primarily remembered for
The Bohemian Girl.
He composed a number of operas for the Pyne-Harrison Company at Covent Garden, this being one of them and the most popular at the time. A baritone, he was also known for his excellent performances of Rossini roles, including Figaro in
Barber of Seville
and Papageno in the first English performance of
Magic Flute.
Provenance: from an album started by Balfe and continued by the noted Victorian choral director Alfred Broughton who was the director and accompanist of the Leeds Festival.
MAN-10961
$850