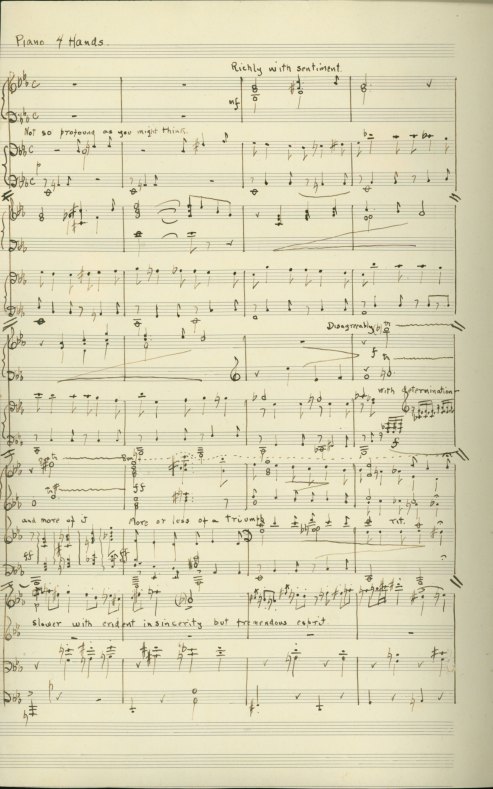 Click Image to Zoom
Enlarge Image
Moore, Douglas (1893-1969)
Later Etruscan Excavations: a Triangular Romance. Piano Four Hands - an Unpublished Manuscript Signed
at end "Affectionately | Douglas Moore. | July 7, 1920". Folio. 4 pp. In excellent condition.
A rare unpublished manuscript by the composer of The ballad of Baby Doe.
Manuscript for piano four hands on a bifolio: two full pages of music, a decorated cover page, and a blank. Autograph presentation manuscript in ink, written as a thank-you present from the twenty-seven-year-old composer to the Spelmans, whom he had visited in Italy. This charming manuscript is enhanced with two photos of the Spelmans' dogs pasted down on the cover surrounding the title. Amusing dynamic instructions include Not so profound as you might think; Slowly, with evident insincerity but tremendous esprit; and With more or less of a triumph.
Provenance: Estate of Timothy Spelman.
Douglas Moore, composer, educator and author, was most famous for his two operas
The Devil and Daniel Webster
and
The Ballad of Baby Doe
. Moore joined the music faculty at Columbia University in 1926 and remained there until his retirement in 1962. In 1954 he co-founded, with Otto Luening and Oliver Daniel, the CRI (Composers Recordings, Inc.) record label.
Timothy Spelman was an American composer whose wife was the English poetess Leolyn Everett. Moore visited them at their splendid sixteenth-century villa on the via Leonarda da Vinci overlooking Florence. At this time, Moore was in Europe studying at the Scola Cantorum in Paris.
This is the first time we have seen a Moore manuscript on the market.
MAN-05912
$1,500